article content
The Zekelman Pickleball Complex officially welcomed players for the first time on Thursday at the grand opening of a new 10-court facility in Tecumseh.
article content
The $750,000 complex at Lacasse Park was the result of a partnership between the city and the Tecumseh Pickleball Association (TPA), along with a $100,000 naming rights donation by the Stephanie and Barry Zekelman Foundation.
"I have a feeling these courts are going to be super busy," said TPA President Malinda Hebert.
A combination of tennis, badminton and table tennis, pickleball is considered the fastest growing sport in Ontario. Pickleball Canada estimates that 1 million people play the sport in Canada, triple the number two years ago.
There were 90 TPA members in 2019, but Hebert said that number has grown to more than 400 this spring.
"We had to stop teaching because there was no place for new players to play," Hebert said of a time when the club was working with four outdoor courts at Chenoweth Park and two indoor courts at Royal Canadian Legion Branch #261.
article content
"We've been asking for more courts in the last four years," said Hebert. "This has been a long process."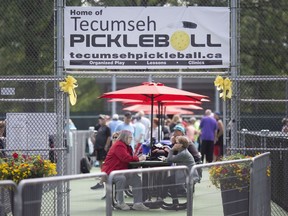 She said the club raised $150,000 for the project.
"It's been a lot of work and almost a full-time job for the last two years," said Hebert.
TPA members hosted two introductory sessions at the courts on Thursday and there was a fun match between city council members and the Tecumseh BIA.
"This is a great day for our sports-loving community," said Tecumseh Mayor Gary McNamara. "These new courts are the result of many years of hard work by the community, as well as the support of various sponsors, and are testament to the idea that when we all work together, great things can happen. "
TPA offers daily games, practice and skill sessions and tournaments. Club volunteers introduced the game to 60 new players last week and still have 30 more on the waiting list.
article content
"I wouldn't be surprised if I was knocking on Gary's door again saying we need more courts," said Hebert. "This is not just a sport for the 50+ group. Our goal is to have a junior program."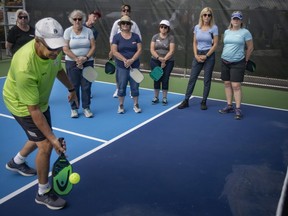 She hopes the game's popularity will continue to grow now that facilities like the Zekelman Complex will be available to adults who work nights and weekends.
Individuals can purchase a seasonal recreational pickleball membership for $27 plus tax by visiting tecumsehrec.ca or calling the Tecumseh Office of Community and Recreational Services at 519-735-4756. Members will receive a key that allows the member and a guest to access the courts. Keys will be available for collection during office hours.
For more information on pickleball in Tecumseh, including classes and opening hours for the new courts, visit www.tecumsehpickleball.ca.