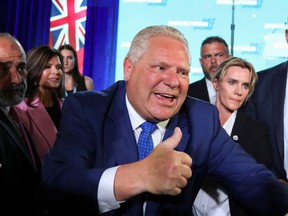 article content
Former Essex MPP Taras Natyshak was an enigma.
article content
In his many years as an elected NDP representing a large and diverse group, he rarely communicated directly with voters.
After I once criticized this endemic silence in a column as an "absence of presence," he contacted me and asked for coffee. We met at Mettawas in Kingsville.
He argued for his apparent obscurity by emphasizing his presence on Facebook.
"Presence is not responsibility," I responded to his explanation that social media was enough.
As we left the restaurant at noon, two ladies entered. A lady looked at me and said, "I know you, you're Lloyd…etc." I agreed that she was right. I then asked if she knew the person next to me, "No", she replied.
"This is Taras Natyshak, your local MPP."
"Oh my God, I voted for him, but I didn't recognize him," she said.
article content
See Taras, this is what I meant by "absence of presence".
I tell this experience because more and more voters see fewer real candidates seeking office, but there is more expectation that, in some strange way, we are all glued to social media.
In this most recent provincial election campaign, not a single candidate or representative in Essex rang our bell. Indeed, among the party's three main candidates, Manpreet Brar (Liberal), Ron Leclair (NDP) and Anthony Leardi (PC), only of the first two do we receive a quasi-standard party brochure.
The winning candidate, Leardi, did not offer us anything in our house by way of background or information about his credentials in pursuit of elective office.
article content
Of course, that's what made this election so interesting. The Conservatives were quick from the start with big roadside signs. Large well-funded Conservative boards were widespread. Minor signs of opposition were rare.
Clearly, the conservative strategy was to avoid confrontations that might occur in one of those irritating arguments for all candidates. No inadvertent slips of the tongue for conservatives or many other candidates.
Stick to the party schedule. Fully identify and swoon with the leader. And certainly avoid confrontations and questions at the doors of residences.
Locally, the election of two Conservatives in Windsor and Essex County and a new Conservative voice in Leamington-Kent County may have some value. Windsor Mayor Dilkens jumped on the bandwagon of Doug Ford on the grounds that this area needed people around the government table.
article content
We now have three regional conservators sitting at the table, and they all certainly have respectable qualifications that might justify elevating more than the obscurity of the back seat in Queen's Park. Now let's see how well all three try to maintain their positions.
Of course, the greenhouse industry will be delighted with almost its own representative in the PC government.
Maybe the new hospital will appear and maybe Highway 3 will finally be twinned with Leamington. It also looks like Windsor will shine economically once again.
A strange story emerged from the Chatham-Kent-Leamington race when Liberal candidate Audrey Festeryga jumped in to fill a gap left by a previously poorly evaluated Liberal candidate. Unfortunately, she appeared to have been essentially harassed into withdrawing under pressure from an NDP attack.
article content
Outside of this region, my favorite story is about a seat the Conservatives lost.
Haldimand-Norfolk where Mayor Ken Hewitt was selected by Doug Ford as a PC candidate only to be challenged by eventual winner Bobbi Ann Brady elected as an independent.
Of course, presumably Ford will soon find a way to smooth Brady's transition back to his natural conservative base. She had previously operated a retired conservative MPP office.
Finally, while Ford and the Conservatives may savor their landslide victory, let's not forget that voter turnout was the lowest in Ontario's history at 43.5%. That Ford team got 41 percent of the total vote.
In practice, this equates to 17.67% of the electorate that voted for the Ford government. About 57 percent of eligible voters did not vote.
This non-voting constituency, in my opinion, certainly has no right to complain if things go wrong.
No votes, no complaints from you for the next four years.
Lloyd Brown-John is professor emeritus of political science at the University of Windsor. He can be contacted at [email protected]