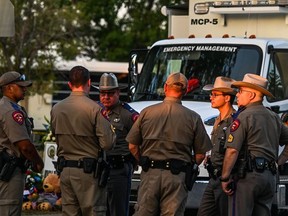 article content
Two days after the massacre of a gunman at an elementary school, which killed 19 children and two teachers, key questions remain about how the attack unfolded and how authorities responded for about an hour when the gunman was at school.
article content
Authorities say the violence of 18-year-old Salvador Rolando Ramos in Uvalde, Texas began Tuesday morning when he shot his grandmother in the face and drove his truck toward Robb Elementary School. He landed near the school grounds and shot two people nearby before walking to Robb, a state public safety official said Thursday.
Texas public safety officials initially said Ramos broke into the school despite encountering a school police officer and offered conflicting information about whether the two exchanged gunfire. But Victor Escalon Jr., regional director for the Texas Department of Public Safety, told a news conference on Thursday that officials' early reports were wrong and that Ramos was not challenged when he entered.
article content
Ramos "came in unobstructed," he said. Interviews, video and audio from the hotline show how about an hour passed before officers stopped the shooter.
1. Late morning: Ramos' grandmother calls the police after he shot her
Texas Governor Greg Abbott, R, said Ramos' 66-year-old grandmother managed to call the police after Ramos shot her. Authorities did not disclose the exact timing or content of the call. Ramos sent private messages about his attack shortly before on one of Facebook's platforms, according to the social media giant; Abbott told a news conference on Wednesday that Ramos expressed his intentions to shoot his grandmother about 30 minutes before arriving at Robb Elementary and said he would "shoot an elementary school" less than 15 minutes before arriving.
article content
A woman who identified herself as Ramos' mother told The Washington Post this week that her grandmother was expected to recover.
2. 11:28 am: Ramos crashes, requesting a 911 call, then starts shooting
Ramos crashed his grandmother's gray Ford truck near Robb Elementary at 11:28 am, Escalon said. Travis Considine, a spokesman for the Texas DPS, said Ramos hit a railing, prompting a resident to call 911 and report that the driver appeared to have a rifle.
Derek Sotelo, who runs a family-owned auto repair shop, said he heard about six gunshots coming from the elementary school and encountered women who said they tried to help the gunman after the accident. The women said Ramos shot them, according to Sotelo.
article content
Escalon confirmed on Thursday that Ramos had shot two "witnesses" and continued walking towards the school.
"Now he's in the parking lot, shooting the school," Escalon said. "Several times."
3. 11:40 am: Gunman enters school unhindered, official says
Escalon said the gunman entered "the west side" of the elementary school at 11:40 am. .
Considine said the officer and Ramos exchanged fire. Department of Public Safety Lieutenant Chris Olivarez told The Post on Thursday that investigators received an initial report indicating that the officer shot Ramos.
article content
4. 11:43: School announces blockade after gunfire
Robb Elementary announced a lockdown "due to gunfire in the area" at 11:43 a.m. and claimed that students and staff were "safe in the building".
5. 11:44 am: Local police arrive and are attacked, authorities say
Four minutes after Ramos entered the school, Escalon said, Uvalde police and school district police "are inside, making the entrance."
"They hear gunshots. They make rounds. They come back to protect themselves," Escalon said. "And during that time, they approach where the suspect is."
Ramos quickly arrived at a fourth-grade classroom, officials said. Olivarez told CNN that Ramos "barricaded the door and started shooting at children and teachers who were inside that classroom."
article content
"The officers are there, the initial officers," Escalon said on Thursday. But they didn't enter the classroom because they were under fire, he said. Ramos fired most of his shots early on, Escalon said, saying he couldn't immediately offer an accurate number.
5. 11:54 am: Video shows family members frustrated with the police
A video recorded outside the school from 11:54 am captures parents criticizing the police response to the gunman apparently inside the building. "They need to get in there," says one man in the video verified by The Post and Storyful, accusing police of "staying outside." Just before noon, the video shows family members of students confronting a uniformed police officer who pushes a man back and yells at people to back off across the street.
article content
At noon, the video showed children running away from school.
Escalon said the police are working to gather the right resources – "special equipment", bulletproof vests, negotiators – as well as evacuating students and teachers.
"They were being shot. . . developing a team to come in to stop him," Escalon said.
6. 12:23: Scene "still active", police say
In a Facebook update scheduled at 12:23 p.m., the Uvalde Police Department asked parents to pick up students from the SSGT Willie de Leon Civic Center — about a five-minute drive from the elementary school — and said the shooting scene was still there. "active." The Uvalde school district wrote on Facebook at 12:30 pm that students were being taken to the civic center for "reunification."
7. 12:51: "Shots fired"
Speaking on emergency medical services audio, reviewed by The Post, someone on the public channel reported "shots fired".
8. 1:06 pm: Police say they stopped Ramos
The Uvalde Police Department wrote on Facebook: "Update 06 Shooter is in police custody." Law enforcement shot dead Ramos, officials said.
Mark Berman, Meryl Kornfield, Silvia Foster-Frau, and Shawn Boburg of the Washington Post contributed to this report.