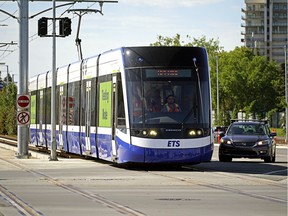 article content
It's time for Edmontonians to start watching trains along the Valley Line Southeast LRT route, which will open later this summer.
article content
The city and TransEd launched a safety campaign to help drivers, pedestrians and cyclists prepare. That means new signs, signals and rules in some places. Visits to schools, community centers and senior citizens are part of the campaign.
Drivers will notice that right turns are not permitted at red traffic lights at some intersections along the route. Pedestrians will find new signs and sounds played at train crossings, along with yellow protective strips on the ground. TransEd spokesman Dallas Lindskoog told reporters this week that sharing the road with trains is safe if everyone follows the rules of the road, including new signs and signs.
"We want people to be very aware of their surroundings… and if you have a red light or a 'do not proceed' as a pedestrian, please obey. It's for your safety," he said.
article content
The reason for the no-right turning on the reds, explained Lindskoog, is to ensure drivers aren't surprised by a train in their blind spot. Drivers turning left on the tracks also need to pay attention — it will only be safe to do so when the turn signal is green, he said.
TransEd representatives were in southeastern Edmonton on Wednesday announcing that the process of synchronizing trains with traffic signals was completed at three of the 47 intersections. The other crossings should be completed in the coming weeks.
This work coordinates the signaling of vehicles and other traffic with the rail system, giving priority to trains in some cases. The company will then move on to full line testing and safety certification before service commences.
article content
'low floor' system
The Valley Line Southeast LRT is a "low-floor" transit system with 26 trains. There are no crossed arms, gates or bells at intersections. Parts of the train route run alongside other traffic, which means people should expect to see trains wherever there are tracks.
"It is important for the public to be aware that we are operating trains 24 hours a day in support of all these testing and commissioning activities," Lindskoog said. "It's going to get very busy along the line."
Asked if TransEd is concerned about people wandering in front of trains with more foot traffic and crossings in downtown Edmonton, Lindskoog said the entire train system has been safety tested and they are mitigating the risks.
article content
"Our drivers are aware that, of course, a person can cross the tracks… let's stop the train, blow the horn, but the message we want to give the public is 'don't do that,'" he said. said.
"It's no different from walking on the road – that's dangerous. Do not cross the lane unless it is a designated crosswalk."
Trains go slower downtown — around 30 km/h — and stop more often so they don't pick up as much speed, he explained.
"It's one of the areas where our drivers will be extremely aware of their surroundings. The ability to stop quickly increases due to the slower speed," Lindskoog said. "Yes, it is a risk, but our drivers are being trained to mitigate that risk."
Lindskoog also warns people to stay off the rails and away from overhead lines that are always live.