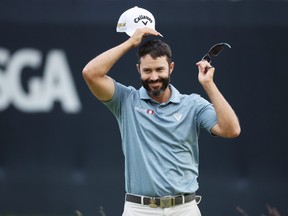 article content
BROOKLINE, Massachusetts – There were countless times growing up that Adam Hadwin's father, Gerry, thought his son would be better suited for a sport where he could beat people up, such as hockey, such was his son's temperament.
article content
After Thursday's opening round, Gerry's son is leading the 122nd US Open in golf.
Hadwin, 34, hit four under par 66 at The Country Club in Brookline and will have a one-shot lead over five golfers, including Rory McIlroy, in Friday's second round.
Hadwin was asked what it's like to lead the third major of the season after day one.
article content
"Very sweet," said the Canadian. "Not a much better start to the US Open."
There is no tournament in the world that requires more patience or a more forgiving attitude than the US Open, two traits Hadwin hasn't always possessed but has been working hard at.
"I'm trying to be a little more balanced, maybe a little less emotional on the golf course, even if it sometimes comes off," Hadwin said after his departure. "Certainly just narrowing down to the golf swing and the task at hand, and I did a really good job of it today."
article content
On a rough and surprisingly windy day at Brookline, Hadwin racked up six birdies on the Country Club's tiny and intricate greens, including five on a six-hole stretch starting on the fourth par-4 hole. The final stretch on front nine is where players have to tackle this tough classic course on the outskirts of Boston, which is set to get tougher over the weekend.
"Sometimes you hit good shots and they don't; sometimes you land bad shots and they work," Hadwin said. "Numbers, targets and trying to execute, and whatever happens, happens."
Hadwin credits his longtime caddy Joe Cruz for helping him develop a more relaxed attitude of late.
"Joe is so balanced that looking at him you would never know if I was five under or five over, which is great," Hadwin said. "That's what you want to have as a player."
article content
Cruz agreed and said his player's attitude was relaxed from the start of the round to the final putt.
"It helps when he's taking it all off," Cruz added with a smile.
It was truly a show of stripes for the PGA Tour winner and two-time Presidents Cup player. Hadwin's play off the tee was solid and his approach play was spectacular, often displaying perfect distance control, something the Country Club demands with its many ridges and slopes.
The Canadian told Postmedia earlier in the week that he felt this golf course was a fairer test than many US Open courses he has played, with less emphasis on distance and roughness that is thick but playable.
"Sixty-six at a US Open to take the lead in the first round is incredible," Hadwin said. "It's something no one can take away from me, but I have bigger things in mind. There is still a lot of golf."
article content
Last week's RBC Canadian Open winner McIlroy will look to chase after Hadwin and end an eight-year drought in major tournaments. The Northern Irishman is more motivated than ever, perhaps more so because he plays a central role in the ongoing war between the PGA Tour and Greg Norman's LIV Golf Series.
He also seems to have kicked his bad habit of starting slow in majors, something that has plagued him in recent years.
"I go into (Friday) with the mentality of continuing rather than where the cut line is or whatever," McIlroy said. "It's certainly a different mindset when you start well."
McIlroy is joined in three below by Joel Dahmen, David Lingmerth, Callum Tarren and MJ Daffue. A shot further back on two below is a group of seven players, including Englishmen Matthew Fitzpatrick and Justin Rose, as well as LIV golfer Dustin Johnson.
article content
Defending champion Jon Rahm hit one under 69, as did Justin Thomas, Collin Morikawa and nine others.
It wasn't a great day for most Norman LIV golfers, with Phil Mickelson dropping eight over 78. Louis Oosthuizen hit 77 and Sergio Garcia hit 74.
MORE CANADA
In addition to owning the top of the leaderboard, it was a mixed day for the other five Canadians on the field.
Corey Conners hit a one-over 71 and Mackenzie Hughes hit a two-over par 72. Hughes left the course with a bitter taste in his mouth after making the final hole.
"There was a lot of good stuff, but I made two or three mistakes that I think were just mental mistakes, bogeying the middle of the fairway, bogeying the last hole," said Hughes. "Just an OK note for the day."
article content
Nick Taylor hit a three over 73.
It was a day of firsts for two of the six Canadians on the field, with Roger Sloan and Ben Silverman making their major championship debuts.
"It was amazing, I had a lot of nerves floating around here and there and I was just trying to breathe through them," Silverman said after shooting a solid two over 72. "There's a lot going on around here. I was getting applause for shooting on Tuesday and Wednesday."
Things didn't go so well for Sloan, who hit six on 76 on his maiden voyage around a major championship.
"The US Open got me today," Sloan said. "I wasn't shooting on all cylinders and that kind of exposes some weaknesses. I landed some bad iron shots and pulled myself out of position. I was really excited to play it and it's more of a mental test, really."