Dubai, United Arab Emirates (CNN)–Two American tourists were fined and briefly banned from entering Rome's historic city center after damaging the Spanish stairs they were riding on a scooter.
The incident came less than a month after a Saudi man was arrested for driving his rented Maserati car up an ancient staircase dating back to the 18th century, causing damage.
Police said the two tourists, aged between 28 and 29, were stopped by a patrol at around 2:45 am local time on June 3 after they threw their scooters down the stairs of the Trinità dei Monte church.
In a statement Thursday, the city's Bureau of Cultural Heritage said: "Two American tourists cycled down the steps of Trinita dei Monte three times, causing damage from the third to the last step of the travertine staircase, from the second side ramp towards to San Sebastian.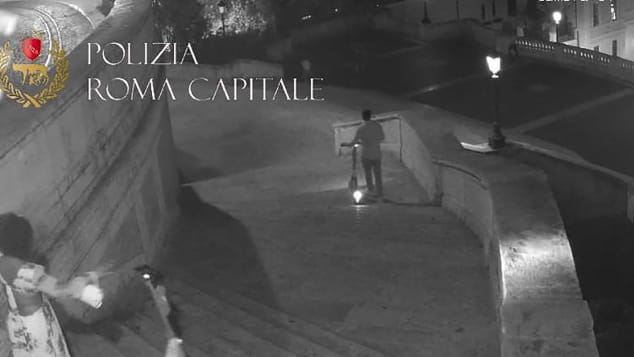 He added that the accident caused the displacement of a piece of marble with a diameter of 10 centimeters, and the cost of the restoration was estimated at 25 thousand euros, or 27 thousand dollars.
Police said the two Americans were fined €400 each, "in accordance with the terms of urban police regulations".
Police said they had filed a complaint against the woman about the damage she had caused to the property of the archaeological tourist attraction, because she deliberately threw the scooter down the stairs.
Police said they prevented the man and woman from visiting the area around the staircase for two days.
In May, authorities arrested a 37-year-old Saudi national at Malpensa airport in Milan, Italy, after he drove a rented Maserati up a stone staircase.
One of the most famous monuments in Rome is the Spanish Steps, named after the Spanish Embassy to the Holy See located inside a palace in the square below.
In 2015, the steps underwent a two-year, €1.5 million ($1.6 million) restoration sponsored by Bulgari jeweler, whose flagship store is located in nearby Via dei Condotti.
The Spanish Steps served as a backdrop for scenes filmed in numerous films, most notably Roman Holiday (1953), starring British actress Audrey Hepburn and American actor Gregory Peck.