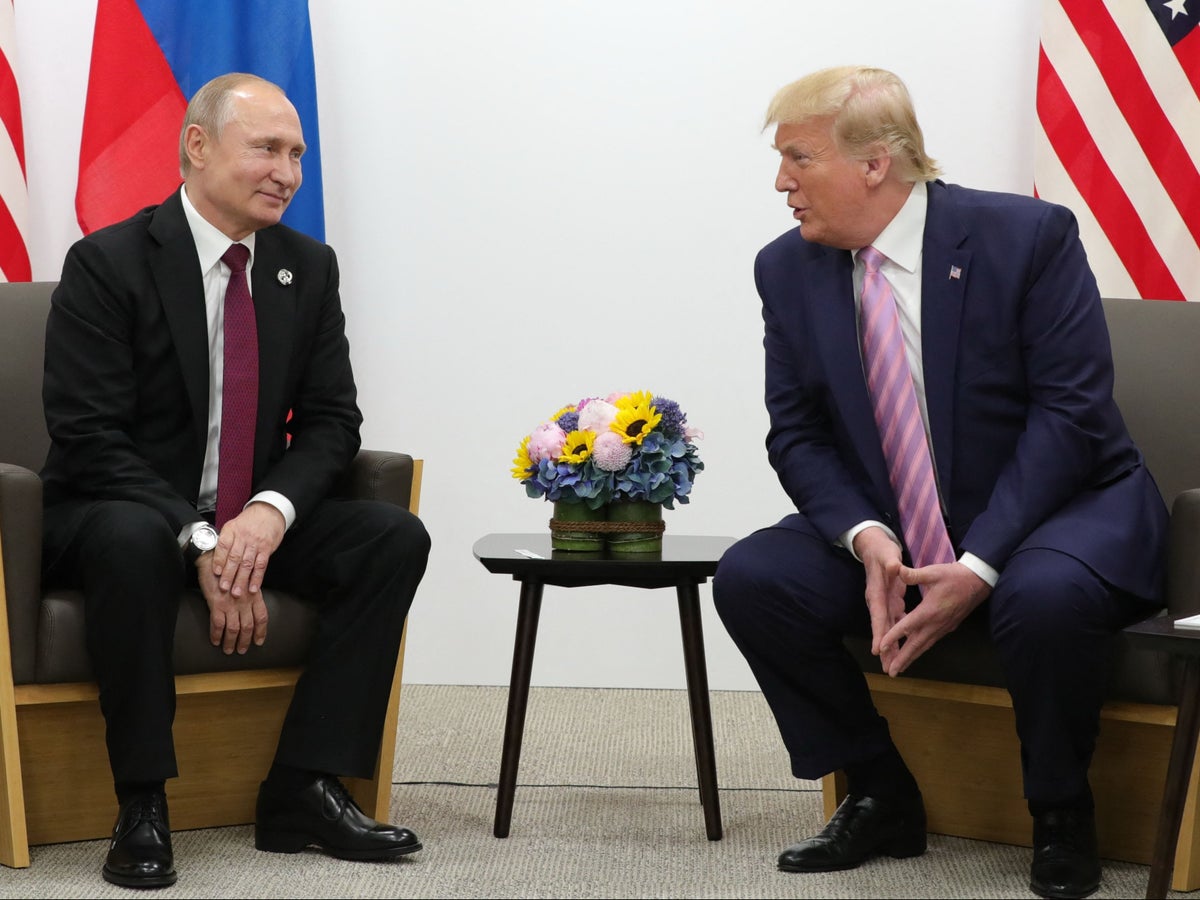 Donald Trump had a mysterious phone call with Russian President Vladimir Putin just nine days before the 2020 election, a documentary filmmaker with unprecedented access during the final months of the Trump administration has revealed.
During a trip on Air Force One on Sunday, October 25, 2020, filmmaker Alex Holder, a witness for the January 6 committee, was informed by Trump's chief of staff, Mark Meadows, that a previously scheduled interview with the then president could not go forward. .
"My memory is that the chief of staff came and said that the interview could not take place today because the president was on the phone. And I believe, if I remember correctly, that he said he was on the phone with Russian President Vladimir Putin, which is why the interview had to be postponed," Holder told Politico.
The British filmmaker began work on the film about Trump in September of that year. Through a connection with the president's son-in-law Jared Kushner, Holder gained access to Trump, then-Vice President Mike Pence, some of Trump's adult children – Ivanka Trump, Donald Trump Jr and Eric Trump – as well as other associates. close to Trump.
Before the end of the Trump administration, Holder interviewed Trump and Pence at the White House and accompanied the president on trips in Air Force One. After Trump left office, he continued to speak to him at his golf clubs in Bedminster, New Jersey, and Mar-a-Lago, Florida.
Only a small number of Trump's close allies were aware that the documentary project was taking place.
Politico reported earlier this week that Holder had been subpoenaed by the January 6 committee. He turned in all of his footage and arrived in Washington, DC this week to appear in front of the panel for a closed-door deposition.
Politico reported on Friday that Holder had private security with him when he showed up for an interview.
"As of Monday, I didn't exist and I had 115 Twitter followers. And today, I think I have close to 20,000," he said.
"I just received a message from [CNN host] Don Lemon," he said in surprise during the interview.
He got a message from a friend in London saying "You've been popped!" – he was photographed by paparazzi while on the Capitol.
When Holder traveled with Trump on Air Force One on Sunday, October 25, 2020 — three days after the second debate with then-candidate Joe Biden — Trump flew from Washington, D.C. to New Hampshire, then moved to Maine before to fly back to the nation's capital.
Politico noted that the reason for Putin's call that interrupted Holder's interview that day could have been negotiations for an arms deal with the Russian president.
Axios reported on October 11, 2020 that Trump wanted a nuclear deal with Putin before the election.
On October 26, the day after the reported phone call, the Russian government issued a European security statement. But a Trump official who participated in those talks told Politico that he does not recall a call between world leaders during that time.
But there was another story on the 25th that may have motivated the call. During the debate with Biden in Nashville, Tennessee, days earlier, Trump accused the former vice president of receiving millions in a nefarious plot linked to Biden's son Hunter and his alleged business connections in Ukraine and Moscow.
On the Sunday the call reportedly took place, Putin rejected that claim, saying Trump's claims were false.
Russian state media outlet Sputnik tweeted this story at 8:40 am, with the story being reported in US media later in the afternoon. Reuters reported at 2:20 p.m. that "Russian President Vladimir Putin said on Sunday that he saw nothing criminal in Hunter Biden's previous trade ties with Ukraine or Russia, marking his disagreement with one of Donald Trump's lines of attack in the US presidential elections".
Holder sent a message to Politico about the timing of the Trump-Putin call: "I think it was between NH and Maine."
According to pool reports, Air Force One was scheduled to take off from New Hampshire at 2:32 pm, landing in Maine at 3:05 pm — with the call possibly coming shortly after the story of Putin's reaction hit the headlines.