Former President Donald Trump has criticized Democrats for the national shortage of infant formula and suggested the problem is being overlooked despite widespread media coverage and outrage from his political allies.
Trump made the remarks on Friday in a harshly worded statement criticizing Democrats for passing an aid package to Ukraine as US parents face shortages of infant formula. Despite saying the baby formula shortage has been ignored, Trump joins other Republicans in using the ongoing issue to attack President Joe Biden for his handling of the economy.
"Democrats are sending another $40 billion to Ukraine, but US parents are struggling to even feed their children," Trump said in the statement. "There is a huge shortage of formulas, but nobody is talking about it – it's a national disgrace."
He added that parents not being able to "get nutrition for their newborns and babies is a mark of eternal shame for the Democratic Party.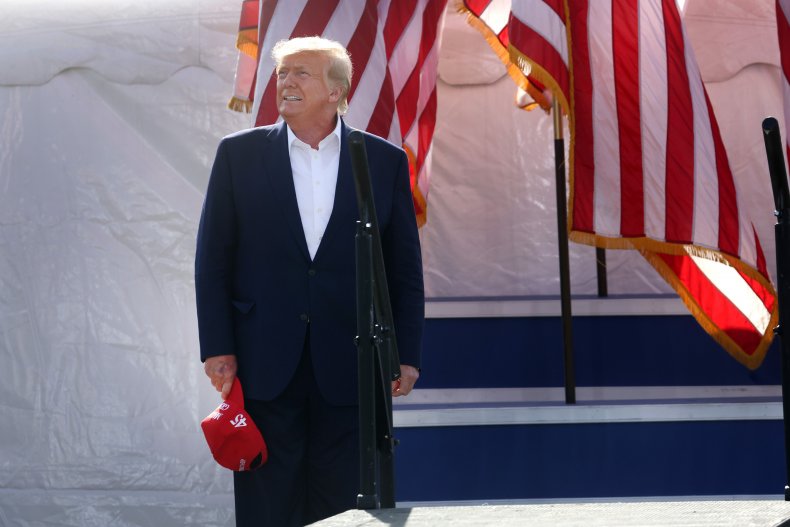 Supermarket price tracker Datasembly put the out-of-stock fluctuation for baby formula at 43% for the week ending May 8. for Data Assembly.
The availability of infant formula began to decline in July 2021 and has worsened with product recalls, supply chain disruptions and historic inflation, Datasembly CEO Ben Reich said in a statement earlier this week.
As shortages continued, stores rationed infant formula and frustrated parents reported hours of driving around looking for available bottles or cans, only to find empty shelves. Parents have formed Facebook groups to help track the increasingly elusive product, and doctors have issued warnings about what can and cannot be mixed to increase formula supplies.
The problem remained present in the headlines. Republicans, who often criticize Biden for his handling of the economy, have ramped up their attacks on the president because of the shortage.
"Did you ever think we'd get to a point in America where mothers can't find infant formula?" Republican Representative Jim Jordan tweeted Friday.
On Tuesday, 57 House Republicans voted against a nearly $40 billion aid package for Ukraine. Georgia Representative Marjorie Taylor Greene explained that she did not vote in a tweet, saying the package "does things we shouldn't do," especially with Americans facing a shortage of infant formula. Donald Trump Jr. also opined with a tweet criticizing the vote.
Republicans aren't the only ones talking about it. Congressional Democrats have scheduled a hearing on the shortage for later this month. Biden also asked the Federal Trade Commission (FTC) to investigate reports of price manipulation of infant formula. The White House also says it is working to simplify requirements for infant formula manufacturers.
newsweek reached out to Trump for comment.