One study participant said he found himself on the verge of tears in his office, something that had rarely happened before.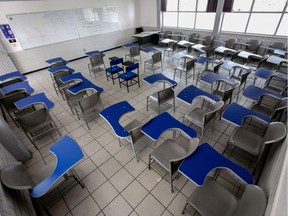 article content
The COVID-19 pandemic has seriously affected the mental health and well-being of people who run Quebec's educational establishments, according to a study released during the 89th convention of the Association canadienne-française pour l'avancement des sciences.
article content
"Disinterested", "unmotivated", "disconnected" and "disheartened" are just some of the words used by study participants to describe their experience during the pandemic.
"I had moments… of anxiety, of stress," one participant told the researchers. "I was questioning my life."
The same participant said he found himself on the verge of tears in his office, an experience they said had occurred only a few times over the course of a 12-year career.
Another participant had similar experiences: "I saw a huge mountain that I couldn't pass. … I was in my office and I had tears in my eyes. … It's impossible, I won't be able to do it, what they ask of us is not feasible.
"We are greeting kids who are scared, parents who are scared, employees who are scared, but you have to be strong, solid, confident. I found it difficult; we never stop".
article content
Professor Emmanuel Poirel from Université de Montréal and his colleagues asked 1,157 school administrators to respond to an online survey in 2019. In 2021, a panel of 20 people – six men and 14 women – were interviewed via Zoom. Sixteen of them worked in elementary school and four in high school.
School principals questioned during the study spoke of "cognitive overload" and "a much heavier workload" where "40 people … want to talk to you at the same time and you can't understand them".
It wasn't so much a matter of working extra hours as "the intensity of those hours", some respondents said. One noted that it was not the workload that was excessive, but the nature of the work, while another described the work as "invasive".
article content
Others felt they were perpetually "on call" with a phone that "could ring anytime," including nights and weekends. "It's always in our personal time… something happens."
Researchers note that being a school principal was already known to be extremely demanding. A study conducted between November 2019 and January 2020 saw 98% of respondents say they worked "intensely"; 92% said they did their job "very fast" and 87% said their job was emotionally demanding.
The pandemic has exacerbated this situation. Overtime has doubled since the health crisis began, directors spent more time working nights, and 93% admitted to feeling negative emotions about work.