A day after the mayor of Mariupol said Russia's murder of residents in his city is twice as bad as the Nazis of World War II, Russia's foreign minister compared Ukraine's President Volodymyr Zelensky to Adolf Hitler.
It is yet another chapter in the war of words as the field and air war between Russia and Ukraine prepares to enter its 11th week.
On Sunday, Russian Foreign Minister Sergei Lavrov compared Zelensky, who is Jewish, to Hitler.
"The fact that Zelensky is Jewish does not deny the Nazi elements in Ukraine," Lavrov said during an interview with Zona Bianca, which is an Italian news channel. "I believe that Hitler also had Jewish blood."
There are conflicting reports as to whether Hitler had a Jewish heritage, but most outlets point to his paternal grandfather who was Jewish. Hans Frank, who was Hitler's personal lawyer and a member of the Nazi Party, wrote in his memoirs that Hitler had Jewish blood.
Russia has promised to "denazify" Ukraine during this current war. Russia mounted troops along the Ukrainian border and ships in the Black Sea for most of February and then attacked Ukraine on February 24. Over the next 10+ weeks, the Russians massacred civilians, destroyed cities, forced deportations to Russia and tried to re-educate their occupied territories.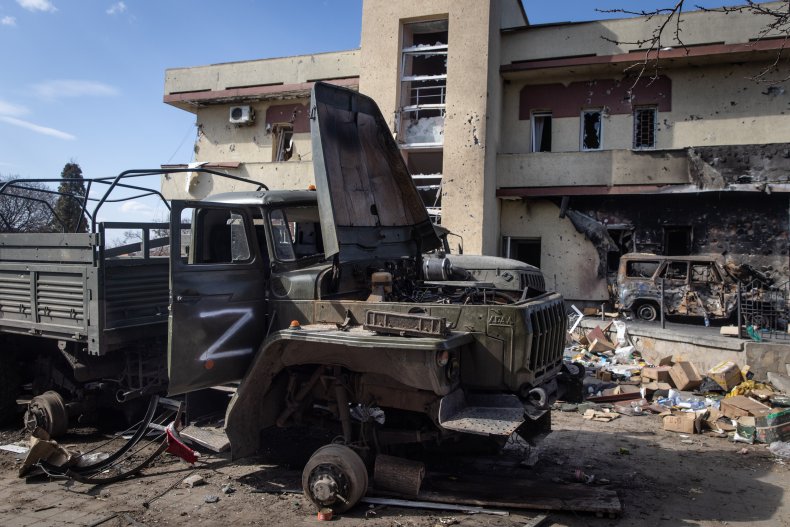 Zelensky and some world leaders called the Russian invasion and destruction "genocide". On Saturday, Mariupol Mayor Vadym Boychenko wrote on his Telegram account that Russia is committing "the worst genocide of civilians in modern history".
Boychenko said there have been at least 20,000 civilian deaths in Mariupol since the start of this war, claiming that is more than double the number of civilian murders by Nazi Germans during two years of occupation in World War II.
"In two years, the Nazis killed 10,000 civilians in Mariupol. And the Russian occupiers in two months – more than 20,000 Mariupol. More than 40,000 people were forcibly deported," Boychenko said. "This is one of the worst genocides of civilians in modern history. The Russian army is purposely and mercilessly destroying our city and its inhabitants."
Boychenko said the Russians "already illegally deported as many Mariupol residents as Hitler's troops did during the years of occupation".
"Racism is the fascism of the 21st century," wrote Boychenko. "Without doubts or illusions. Humanity paid a heavy price for the victory over fascism in the last century. If we don't unite today and stop this evil, the price this time could be much greater."
There has not been a precise number of civilians killed in Mariupol since the beginning of the war. The city was devastated and, more recently, civilians were bunkers in the Azovstal Steel Plant complex. There are reports of ceasefires to allow the evacuation of residents through human corridors, but there are also conflicting reports of Russian troops thwarting evacuation attempts.
Zelensky said 100 people were evacuated on Sunday, but about 1,000 still remain.
Mariupol is also where the theater that housed around 1,200 people – mostly women and children – was bombed.
Russia continued its attacks on Sunday, shelling the Donetsk and Kharkiv oblasts and more artillery fired at Azovstal.