The deciding game of the best-of-five Calder Cup semi-final series of the Northern Division will be played on Tuesday in Syracuse.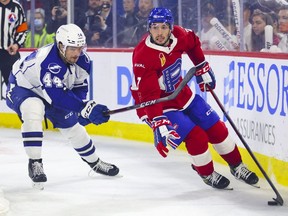 article content
Laval Rocket failed to get off the launch pad on Saturday, losing 3-0 to Syracuse Crunch in front of a packed crowd at Place Bell.
article content
The victory allowed Syracuse to tie the Northern Division's best-of-five Calder Cup semi-final series at two games each. The deciding game will be played on Tuesday at the Upstate Medical University Arena in Syracuse.
Cayden Primeau, who excelled in leading Rocket to wins in Games 2 and 3, kept Rocket on the hunt for two periods, but Laval fell victim to a self-inflicted wound early in the third period, which allowed Crunch to have an advantage. from 2-0.
Primeau had no chance on Syracuse's second goal, which was scored on a power play. He lost the putter and was taken out of play when Laval defender Xavier Ouellet pushed Gabriel Dumont into the crease. This left an open net for Remi Elie to score his third goal of the series.
article content
Anthony Richard effectively put the game out of reach when he forced a turnover at the blue line and won Primeau at 6:24. Primeau finished with 34 saves.
Crunch came out with more bounce than they showed in Thursday's Game 3 and Primeau kept busy in the first period, with Syracuse a 13-7 lead on the clock and a 1-0 lead on Cole Koepke's goal in the 5th. : 36. Richard carried the puck behind the net and found Koepke on the other side of the goal.
"I thought our guys were a little tired, but (Crunch) played desperately," said Rocket coach Jean-François Houle. "They played a good game; they are a good team. And I knew they were going to play well defensively and they did. This is playoffs and now we have to regroup."
article content
That could involve a change in lineup, which has seen Laval wear seven defenders and 11 forwards.
"We can change our plan, but it worked for the other two games," Houle said. "When you lose, it puts things in perspective and you're left thinking. Our forwards looked a little tired and didn't generate as much attack as we should have."
Although there were only four penalties scored in the game, it was a physical contest with lots of hits and the usual variety of scrums after the whistle.
"All games have been physical so far," said Alex Belzile, Rocket forward. "It's the playoffs, that's why we play hockey. We have to stay positive. We split up there, we split up here. (Losing today is) it's not the end of the world. Yes, we wanted to close in front of the crowd, which was again amazing, but we have to have a short memory. They played a desperate game and it is our turn to answer the bell for the next game."
article content
Syracuse goalkeeper Max Lagacé was injured midway through the opening period, but Rocket were unable to take advantage of substitute Hugo Alnefelt. Rocket had the only two power plays in the first period, and while Rafael Harvey-Pinard came close when he hit the crossbar, Laval was beaten 2-1 when he took the man's lead.
Alnefelt, a 20-year-old rookie from Sweden, made 24 saves and shared the shutout with Lagacé, who faced just four shots before his departure.
"We don't play well in our zone," Harvey-Pinard said. "We had a hard time getting the record. We didn't get in front of the goalkeeper and we had time to put the puck in the net. This is something we have to work on."
Stu Cowan: Allen of the Canadiens helps crease countryman get back on track

Hickey in hockey: Cayden Primeau at his best for Rocket

Stu Cowan: The Habs' Defense of the Future Put to the Test in Rocket's Playoffs