Local playwright Even Gilchrist's poignant and humorous work exploring the challenge of reconstructing a genre, an identity and a lifetime is testament to his skills as a rising theater artist in Edmonton.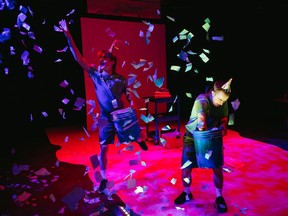 Reviews and recommendations are unbiased and products are independently selected. Postmedia may earn an affiliate commission from purchases made through links on this page.
article content
Reconstructing a gender, an identity, an entire life is an unfathomable task. That local playwright, Even Gilchrist, made poignant and humorous work out of such a challenge is testament to his skills as an up-and-coming theater artist in Edmonton.
article content
Gilchrist is the creator of Re:Construct, a 45-minute single act that appears at the Backstage Theater through June 12. The duo sees a trans man and the perfect cis man (defined as a man whose personal identity and gender at birth) engage in a dialogue about achieving their most perfect selves.
Starring Émanuel Dubbeldam and Geoffrey Simon Brown, the production shows "viewers" ​​(as the audience is called) what it's like to know who you are on the inside, while the world sees you from the outside as the opposite and debates your very existence. Resolving the inner/outer divide puts our two-sided character on a journey to becoming a trans man – with all that that means for him. At the same time, he must figure out how to do this in the face of skeptics, enemies, and people who just don't understand.
article content
The night is set up as an event that falls somewhere between a birthday party and a counseling session. Dubbeldam and Brown arrive on stage in party hats and loud and pushing a cart with a cake. They also have a box full of items that symbolize masculinity, including pliers, a soccer ball, a tie, and a Ken doll. The two characters argue over how to decorate the cake with men's things. Suffice it to say that they have different ideas.
"Before anything else happens, I just want to say: you are so, so, so, so, so worthy," says character A in the play's opening moments – just the first of many amusing ironic references to the auto industry. help.
But are you really? Valid? Because much of the world is unconvinced and smacks you in the face with personal questions like, "Do you think it's because you miss your dad? … I think it's because you felt your mother needed a man in the house.
article content
Or how about this doozie: "If you had one, how big would your (penis) be?" Then there's the charmer: "Have you ever thought about harvesting your eggs?"
As disturbing as this line of public inquiry may be, it is no less unsettling than the thoughts that dominate the trans man's psyche in Re:Construct. He wants so badly for his new gender and identity to work, and he envisions a time when everything will look perfect. Or at least better.
It will, he is convinced, once a series of conditions are met. How to be able to laugh without "giving it away". Or tracking down the right underwear. The finish line is getting further and further away.
Gilchrist, a trans and queer theater creator, is pursuing a master's degree in theater design at the University of Alberta. He's also done some impressive lighting and costume work in recent months in Shadow Theater productions The Mountaintop and Bloomsday.
article content
Gilchrist first wrote a version of Re:Construct for the 2018 Ottawa Fringe Festival, hoping the piece would reflect the ongoing experience of trying to define "gender" — an experience that is not unique to trans people. During the opening night performance, I was struck by the universality of the experience of isolation and doubt that are the main themes of Re:Construct. But the play also emphasizes the comic joy of watching ourselves, us imperfect and clumsy people, face our ever-changing humanity.
REVIEW
Rebuildpresented by RISER, in partnership with the Common Ground Arts Society of Edmonton and the Why Not Theater of Toronto.
Written by: to Gilchrist
Directed by: Sarah J. Culkin
Starring: Emanuel Dubbeldam and Geoffrey Simon Brown
When: until June 12
Where: Backstage Theater 10330 84 Ave.
Tickets: $23 through fringetheater.ca