"Help came when I least expected it," said the founder of IT Electronics. "Follow your dream and don't give up."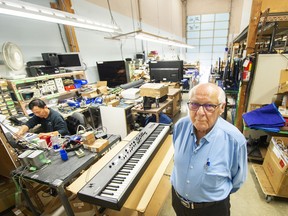 article content
Imre Toth likes to fix things.
article content
When the founder of IT Electronics retires on June 29, it won't be because there's nothing left to fix — for years, if you had an electronic device with an extended warranty, Toth was the guy who got the shipment from Best Buy, or Costco. or Panasonic, and who arrived at your house with his team to do what we all want: fix what's broken.
Toth isn't closing shop because he's out of solutions. In a culture where electronic devices are designed with built-in obsolescence, there will always be something to fix and, for Toth, a way to do it.
But the repairman, who turns 80 later this month, is ready for a break.
"I'm getting tired," said Toth.
Toth was born in Szeged, Hungary, in 1942. That year, his father was forced to join the German army as a cook and his mother fled with the child. His uncle and grandfather were shot to death. In 1944, his father was captured by Allied forces. Upon his release, Toth's father, a farmer with a Grade 4 education, taught him the most valuable lesson of his life: education was the one thing no one could ever take away from him.
article content
Toth became an electronics engineer and, at age 25, obtained a work permit in West Germany. However, after two years in the country, his judicial application for full citizenship was denied. Toth, now married and a father of two, was devastated. Outside the courthouse, a young nun noticed his downcast expression, took him aside and told him she could work out a solution. Did he want to try Canada?
"I had seen the Expo on TV and knew that Canada was a cold place," said Toth.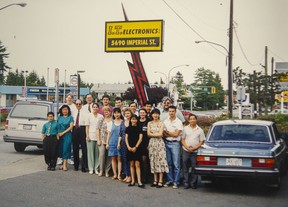 He thought taking a chance in Canada was better than going back to a country where he saw no future.
The family landed in Edmonton. Toth did not speak English and his university credentials were not recognized, so he took a job in the mines of Uranium City.
"When you don't speak the language, you have to start somewhere," said Toth.
article content
He dedicated himself to learning English.
"After four months, the headache was gone and the faucet turned on. It felt like water: the language started to flow," he said.
Toth said he loved the freedom he found in Canada. He got his journeyman's ticket as an electrician, bought his first car, and took his family on vacation to BC. There, he got a job working as an electronics repair specialist for Magnasonic and later for Toshiba.
"I've never looked back," said Toth.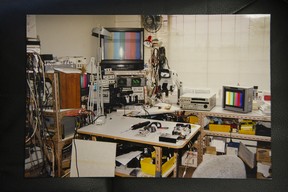 In 1979, he opened his own business.
"Back then, people valued their products, even that little clock radio was a very valuable piece of machinery – it would wake you up in the morning! Everything came with warranty. We repaired 8 tracks, then imported the first cassette converters to convert 8 tracks to cassettes," he recalls.
article content
Toth has become a valuable asset to electronics buyers like Panasonic and Yamaha, traveling frequently to Asia to help evaluate and select products for their customers. Although he made a living from repairs, he chose things that were built to last.
His shop on the corner of Kingsway and Imperial, with its iconic lightning bolt sign, was a bustling hub, with a roster of 35 employees and specialists in VCRs and CD players – there was even someone who did nothing but camcorders.
"It was fun," said Toth.
Toth is looking forward to retiring, traveling with his wife and spending time with his children and grandchildren.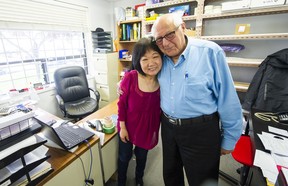 When he thinks of that desperate moment outside a German courthouse and the young nun who helped him begin the journey to make things right in his life, the lesson is simple.
"Help came to me when I least expected it," he said. "Follow your dream and don't give up."
---
More news, less announcements: Our in-depth journalism is made possible by the support of our subscribers. For just $3.50 a week, you can get unlimited, ad-lite access to The Vancouver Sun, The Province, National Post and 13 other Canadian news sites. Support us by subscribing today: The Vancouver Sun | The province.