Victorian Prime Minister Daniel Andrews announced a major cabinet reshuffle in light of the resignation of government ministers this morning.
Transport and Infrastructure Minister Jacinta Allan and Treasurer Tim Pallas will retain their posts, while Representatives Ben Carroll, Lily D'Ambrosio, Jaclyn Symes, Natalie Hutchins, Danny Pearson and Mary-Anne Thomas will be given new cabinet positions.
Andrews confirmed that the new leadership team met this morning and resolved to recommend that Allan be chosen to replace James Merlino as deputy prime minister at tomorrow's caucus meeting.
He said he would make additional portfolio announcements early next week, before the full ministry visits Government House to take office.
Allan emerged as a favorite for the vice role this week, alongside Carroll.
Under the Labor Party's factional convention, the MP comes from a different faction than the Prime Minister. Andrews is on the socialist left, while Merlino is on the right. Allan, who has been in parliament since 1999, belongs to the left, which could lead to a backlash within the party.
Asked about the implications of the recommendation, Andrews said Allan's appointment was "a matter for the caucus."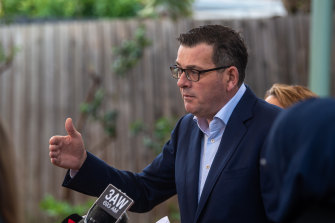 "I don't think it's right to talk about that kind of tradition," he said. "My recollection is that while, for example, Rob Hulls did a very good representation of someone on the left, he was not a leftist.
"While John Thwaites was a particularly progressive member of this government, he was not a member of the left, so let's not get into that kind of game.
"I am very confident, as are my colleagues on the senior leadership team are very confident, that the caucus will make the right decision."
The appointments announced by Andrews bring the percentage of women in government leadership to 50%.
Loading
Speaking to Parliament House reporters, Andrews said he was "very sad" to say goodbye to lawmakers, whom he described as "not just great friends, but people who have dedicated so much of their professional lives to making our state fairer and stronger." .
"People of principle, great character, hard work, people who can be so, so proud of everything they've done, everything they've driven and led," he said.
"But when the time is right, when you know, then this is the right decision to make, not just in the interests of the government, but in the interests of our state."