Pandemic indicators continue to decline in Quebec as the province suspends its mask mandate on Saturday.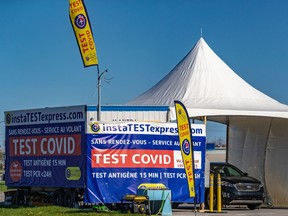 article content
According to data released on Saturday by the Quebec Ministry of Health, the number of patients in hospitals because of COVID-19 dropped by 63, from 1,754 to 1,691.
There are now 53 people in intensive care, six fewer than the day before.
Twenty new deaths were also reported on Saturday, bringing Quebec's total to 15,276 since the start of the pandemic.
The province has reported 798 new cases, but the case count only includes people who received PCR tests at government screening clinics. It does not accurately reflect the number of cases as it does not include the results of rapid home tests.
According to the website VaccinTrackerQC, 16,165 doses of vaccine were administered in the last 24 hours. The doses were mostly second boosters.