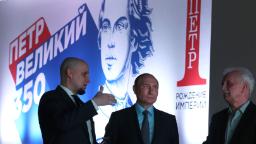 A court in the self-proclaimed pro-Russian People's Republic of Donetsk on Thursday sentenced three men to death accused of being "mercenaries" from Ukraine, according to Russian state media RIA Novosti.
British citizens Aiden Aslin and Shaun Pinner and Moroccan national Brahim Saadoune appeared in court on Thursday, where they were sentenced to death.
The three men – all foreign fighters in the Ukrainian army – were captured by Russian forces in mid-April in Mariupol.
Saadoune, Aslin and Pinner were sentenced to death and will be shot, according to the RIA Novosti report from the Donetsk court.
The "head of the judicial council" in Donetsk said those convicted "can appeal the decision within a month", according to RIA Novosti.
One of the defendants' lawyers, Pavel Kosovan, said his client would appeal the verdict, Russian state media TASS reported.
On Wednesday, Pinner, Aslin and Saadoune pleaded guilty to acts of "taking power by force", state media reported at the time.
"The relevant article of the Penal Code of the DPR provides for the death penalty," according to RIA Novosti.
Aslin also pleaded guilty under the article "training to carry out terrorist activities," according to state media.
Some context: The so-called People's Republic of Donetsk, a pro-Russian area in eastern Ukraine, is not an internationally recognized government; therefore, the court's decisions are not considered legitimate by the international community.