Bruins

"It's too early now."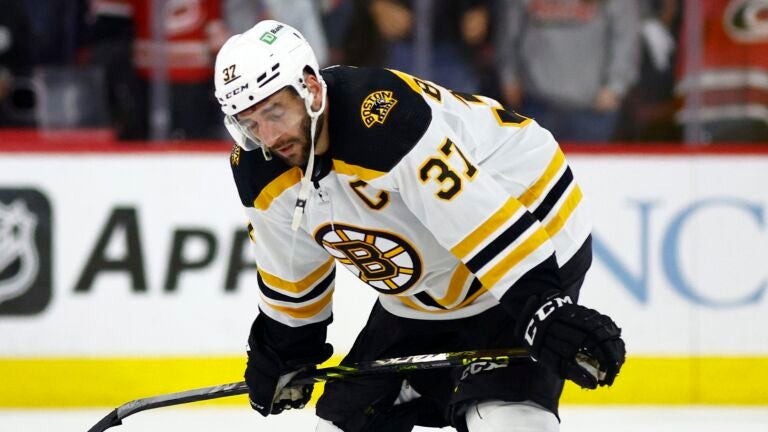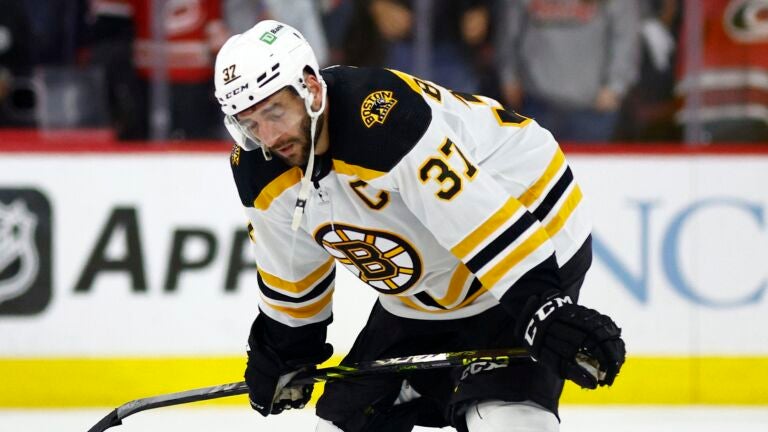 Bruins captain Patrice Bergeron wasn't ready to discuss his future in the moments after the Bruins' Game 7 loss to the Hurricanes that ended their season.
"No, it's too early now. Not later – it's very fresh now," Bergeron said when asked if he's decided whether to return next season. "It still hurts from a hotly contested series and we fell short. Obviously I'm going to have to think about it, but I'm not there right now."
Bergeron, who turns 37 in July, is in the final year of his contract. But rumors that he would possibly retire floated for much of the season.
After the game was over, Bergeron hugged all of the Bruins' teammates as they entered the locker room.
"A moment to share with them and thank them for fighting together every day, basically," Bergeron said of the final moments on the ice on Saturday. "It hurts. It's not the feeling you want. That said, we did it together."
Bergeron is by far the oldest Bruin, playing for the team since drafting him in 2003.
Brad Marchand, who has played in the same vein as Bergeron for much of the last 12 seasons, was emotional when discussing his teammate's possible retirement.
"He is the backbone of our team. Obviously most of our team. We want him to come back," Marchand said. "But whatever happens, he's earned the right to make whatever decision he wants and take as long as he needs to. I think time will tell."
"This is a personal thing that he and his family will decide," Marchand added. "I obviously pushed my case for him to come back. If he ever wanted to open up and talk about it, that's up to him. But I wasn't going to pressure him."
Bruins coach Bruce Cassidy shared similar thoughts about wanting Bergeron to return to Boston next season.
"I hope not," Cassidy said when asked if he had any idea Saturday was Bergeron's last game with the Bruins. "He means so much to this franchise that we all want him back. But only he can answer that. I have no idea, I haven't talked about it with him. It's not my place in the middle of the season. He will make that decision going forward."
Bergeron is still playing at a high level. He played in his third All-Star Game this season, scoring 25 goals and 40 assists. In the series against Carolina, Bergeron scored three goals and provided four assists, giving him one point per game.
As Bergeron's team pleaded with him to stay, all he could think about was the loss to Carolina.
"It's always hard to say that when you're short, but we fight," Bergeron said. "This is something we've done all year. We started off a little slow this year, this series was more or less the same but we struggled to come back and played the kind of hockey we needed to move forward. But tonight, we fell short and obviously needed a little more."
The Bruins lost 3-1 for nearly the entire final 30 minutes of the game. However, with the keeper pulled, David Pastrnak scored a goal with 21 seconds left to reduce the Hurricanes' lead to 3-2.
Bergeron won the ensuing showdown and Boston had one last run. Boston created chaos in front of the net, with Bergeron hitting a few shots to try to tie the game. But Hurricanes goalkeeper Antti Raanta and the skaters in front of him made the necessary stops to keep the game from going into overtime.
Bergeron thought his team had a chance in the end, as he reminisced about the opportunities the Bruins had in Game 7.
"At that point, you're a shot away," Bergeron said of the closing seconds. "I thought we took a leap and regained momentum. We had some good changes, good looks – some good looks in the first one too that those jumps, if they go your way, it's a different game. It's easy to say that now. Congratulations to them. They played a great series, a great game. They are moving forward."
Now, Bergeron has his future to think about. Will he play hockey again next season, and if he does, will it be with the Bruins?
The answer to these questions is not yet known. What Bergeron does know, though, is that he likes the Bruins' young players.
"This is something I was taught early in my career. It needs to be a cycle basically. When it's your turn, you have to give it back and do it," Bergeron said of being a leader. "We have some great young players who are open to listening, open to learning. You see the growth in these guys – [Charlie] McAvoy, [Brandon] Carlos, [Pastrnak] – it's impressive. It's great to see."
Get the latest Boston sports news
Get updates on your favorite Boston teams straight from our newsroom to your inbox.