The service is described as "win-win" as it gives patients access to adequate care and frees up ambulances to respond to other calls.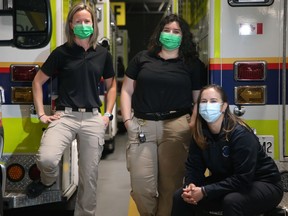 article content
It was the kind of 911 call that the Ottawa Paramedic Service answers several times a day, a mentally distressed person in need of help. But this call ended differently than it would have in the past.
article content
Shortly after arriving at the scene, paramedics called in the service's new mental wellness response team, which includes a specially trained paramedic in partnership with a mental health professional. They took care of the patient, performed a mental health exam, safety assessment, and registered the person for follow-up the next day.
Project leader Logan Martin said the team, which has been on site since March, is already making a difference.
The new team is designed to provide better community care for non-violent, non-criminal emergency calls where mental health and substance use are contributing factors. This includes crisis intervention and referrals to community organizations, as well as next-day follow-up by Ottawa Hospital's mobile crisis team in some cases.
article content
Before the team was on site, paramedics would be limited to providing immediate medical assessment and treatment. Often, people in distress ended up in the hospital, where they faced a long wait and likely did not receive the specific care they needed.
In addition to providing a more appropriate and effective response to people with mental health needs, the program frees up paramedics to respond to other calls, officials say.
In this case, that proved to be a lifesaver.
After transferring the case to the mental wellness team, paramedics were able to respond to a nearby 911 call from a person who had suffered cardiac arrest. Because they were so close, they successfully treated the patient in time to make a full recovery.
article content
Martin calls this a "win-win-win" example – for the mental health patient, who received adequate care, for the cardiac patient, who received rapid, life-saving care, and for the paramedics, who had the satisfaction of knowing two patients had good results.
"The beauty of the program is that we are providing the right care for the individual in their home or wherever they are," said Chief Paramedic Pierre Poirier.
Since the program's inception, he said, two-thirds of mental health calls have been redirected outside the emergency room.
Typical types of calls that staff may respond to are people with acute anxiety or having a depressive episode. In the past, this has included college students away from their families who couldn't cope, Poirier said. He also said the paramedic service has received calls from recent immigrants with anxiety and isolation and uncertain about how to navigate the system for help.
article content
"We have people calling 911 when they have nowhere else to go for help."
The 2016 death of Somali-Canadian Abdirahman Abdi, 37, after a violent arrest outside his Hintonburg apartment, has become the focus of calls for changes to the way police respond to mental health calls.
Part of the Ottawa Police Service's response to Abdi's death is the development of a new mental health strategy.
Poirier said the paramedic program will not respond to the same problems as the police strategy — the Ottawa Paramedic Service's Mental Health Response Team only responds to non-violent, non-criminal mental health calls. But the program has similar goals, ensuring that people in mental health crises have access to appropriate care, including help navigating the system for long-term support and better outcomes.
article content
It operates under a new model of care from the provincial Ministry of Health of "treat and refer", which means that patients with mental illness or substance abuse can receive care in the community.
The program also aims to remove any stigma related to substance abuse and mental illness. Among other things, the team arrives in an unmarked vehicle and the members wear khaki pants and a golf shirt.
"What triggered this was asking, 'Can we do better? How can we provide the care they need?' said Poirier.
The Ottawa Hospital Mobile Crisis Team works with the Paramedic Response Team.
Shannon Turcotte, a registered nurse who is clinical manager for Ottawa Hospital's mobile crisis team, said the partnership will help provide high-quality mental health care and "improve the overall patient experience."
article content
The Ottawa Paramedic Service based its program, in part, on successful programs in other communities.
In Eugene, Oregon, the CAHOOTS (Crisis Assistance Helping on the Streets) mental health crisis intervention program that handles low-risk emergency calls has been in operation since 1989. Ottawa is among cities around the world that were inspired by the concept.
Following the 2020 George Floyd protests, several hundred cities across the US requested information from CAHOOTS about the program, The Atlantic reported.
Mayor Jim Watson said the program "is a great example of what can be achieved by listening carefully to the needs of our community and engaging collaboratively with health partners."