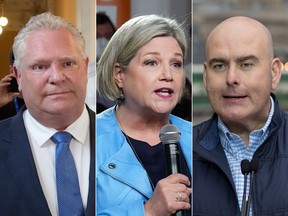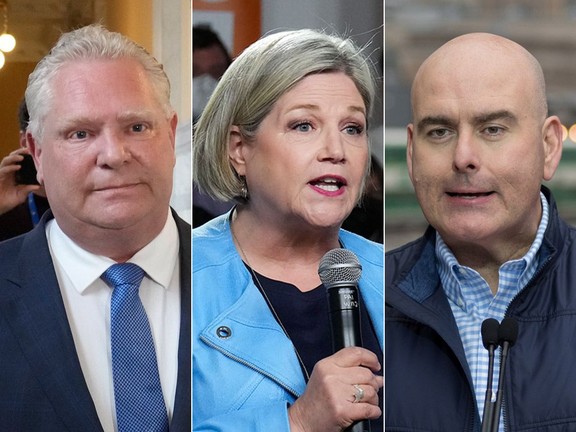 article content
Where are the leaders today:
article content
Conservative leader Doug Ford: Ford began his day in Kitchener by announcing his party's plan, if re-elected, to build a new Highway 7 between that city, Waterloo and Guelph. He had scheduled campaign stops for the remainder of the day in Cambridge, London North Centre, chatham–Kent-Leamingtonand Windsor–Tecumseh.
article content
Liberal Leader Steven Del Duca: Del Duca chose Scarborough-Guildwood for a morning announcement about his party's pledge to add $3 billion in funding for mental health and addiction services. His day was to continue at the Unionville GO station in Markham, talking about his party's public transport promise, before moving on to a nearby meeting with small business owners and then an evening gathering with supporters in St. Catherine.
article content
NDP leader Andrea Horwath: Horwath was in Paris (Ontario) Thursday morning at the Brantford-Brant riding to announce details of his party's proposed universal mental health plan. She then went to a community health center in Elgin-Middlesex-London to mark International Nurses Day, thanking some of them. She later met with volunteers working on NDP candidate Ron LeClair's campaign in Essex.
article content
Green Party Leader Mike Schreiner: Schreiner unveiled his party's funded platform Thursday morning at Toronto's University-Rosedale riding, alongside his party's deputy leaders and other area green candidates. His plan for later was to meet with the editorial board of the Toronto Star and end his day with a town hall of candidates at his home riding in Guelph.
The platform features six key priority areas, with pledges in each: "homes, not roads", including pledges to build 1.5 million homes and freeze urban boundaries; "mental health is health"; "new climate economy", which would present an annual carbon budget to reach net zero by 2045; "respect for people", such as doubling ODSP rates; "reinvest in health and education" with, for example, a $1.6 billion investment in home care; and "protect nature".
article content
Liberals oust two candidates
Nominations for candidates end Thursday afternoon, and the Liberals are now in two bodies after controversy over the candidates.
Media reports on Wednesday described a self-published book by Parry Sound-Muskoka candidate Barry Stanley containing scientifically unfounded views on homosexuality.
A party spokeswoman said Stanley did not disclose the existence of his book to the party's verification team.
Then the NDP unearthed comments that Chatham-Kent-Leamington liberal candidate Alec Mazurek made on Facebook using an insult to gay people, prompting the party to sever its liberal affiliation Thursday morning.
That proved to be a distraction from the message the party wanted Thursday morning to focus on — its plan to train more than 3,000 new mental health and addiction workers, a third of which would be dedicated to at-risk youth, and emergency and 911 services. with mental health professionals.
article content
Ford has Lecce back after fraternity 'slave auction' apology
The progressive conservative leader says his candidate Stephen Lecce has his full support, a day after Lecce apologized after a report was published about a so-called slave auction during his time as fraternity leader at the university.
Ford says Lecce acknowledged that it was inappropriate, apologized and has been a strong advocate for fighting racism in schools during his time as education minister.
PressProgress, a media outlet founded and funded by the Broadbent Institute, ran a story Tuesday night claiming that while Lecce was a student at Western University, he participated in a 2006 event dubbed the "slave auction" at Sigma. Chi, who has no formal affiliation with Western.
article content
Lecce said in a statement that he apologizes "unreservedly" and will advance the interests of all Ontario residents, regardless of faith, heritage, orientation or race.
Read the full Canadian Press report here.
MPP grants, PCs to give WSIB jobs, plus GO train service to London
As Thursday wore on, Ford relaxed his party's plan to move the Workplace Safety and Insurance Board (WSIB) headquarters from Toronto to London, bringing in jobs, and invest $160 million in improving the GO train service. between London and Toronto.
While the NDP spent part of the morning promoting their pledge to give all Ontarians public access to psychotherapy, they also found time to call PC MPPs who received grants from their local riding associations to pay them.
article content
After it was revealed by the NDP earlier in the week that Nepean MPP Lisa MacLeod received a PC riding membership grant totaling more than $44,000 over three years, Global News found that seven other PC MPPs received such grants in last four years.
While Ford said he was assured all the rules were followed, according to Global's report on Thursday, he also said he was "not too happy" when he learned of the subsidy situation and that the party would tighten the electoral funding if re-elected.
The NDP, in turn, proposed banning the practice.
With archives from The Canadian Press
---
ALSO IN THE NEWS:
OC Transpo operator morale is 'all-time low' over handling of mandatory breaks, union boss says
Egan: 'Crisis to Crisis' – Matt Fleury, Children's Counselor Now Father, on Need to Take a Break
Ontario investigates seven cases of severe hepatitis in children – including one from CHEO
Road closures, midday Thursday afternoon traffic delays for March for Life
---