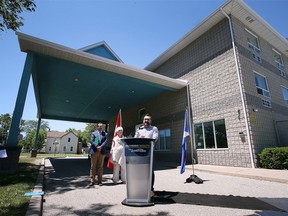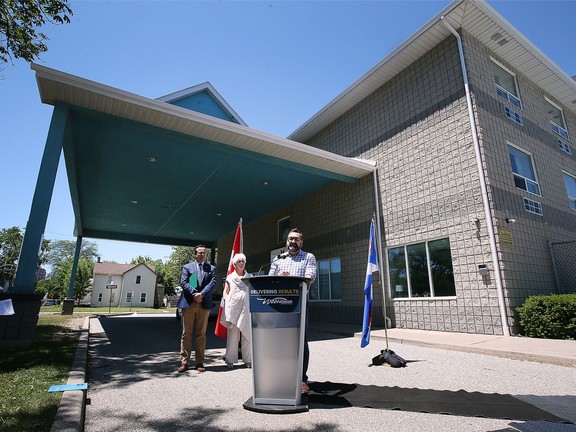 article content
An unprecedented city-owned emergency shelter for women and families will accept its first guests next week.
article content
Nearly nine months after the City of Windsor announced that it had purchased the former Comfort Suites Downtown hotel (500 Tuscarora St.) to be used as the area's first brick-and-mortar retreat for women and families, the renovated building is nearing completion.
The Welcome Center Shelter for Women and Families will operate the 32-bed, pet-friendly facility. With rooms for 16 families, Executive Director Lady Laforet held back tears as she opened her organization's new home on Thursday.
"This is really the first time that the shelter system has focused so heavily and fully on families and women," Laforet said.
"We will no longer answer phone calls telling women, 'Sorry, try again tomorrow,' because we will have bed capacity to accept almost triple the amount of women we can currently."
article content
We know we need to address the gaps to help keep people safe
The building tour revealed immaculate, spacious rooms for large families and single women, each with a private bathroom. The facility also features on-site laundry facilities, a commercial kitchen, a large dining area, significant office space, multiple computer stations, and an 800-square-foot family room already filled with children's toys and activities.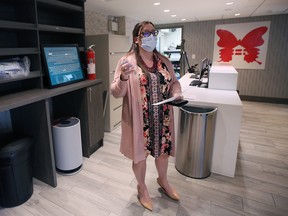 A newcomer will first meet with the housing support team to help them move into a unit. Drop-in programming, on-site children's programming, harm reduction programming and medical support will also be available to start, but Laforet said the space will grow "organically with the needs of our customers" over the next year.
Windsor MP Irek Kusmierczyk (L – Windsor-Tecumseh) on Thursday announced a $553,000 investment under the federal government's $4 billion homeless strategy.
article content
"We know we need to address the gaps to help keep people safe," said Kusmierczyk. "That is why we are stepping up our support for frontline organizations and increasing investments in shelter beds and transitional housing for women and children seeking shelter."
In October, the city announced that it had used a $7.75 million contribution from the province to buy the former hotel for use as a shelter. In previous years, the Welcome Center worked in isolation and unsuccessfully to expand the services offered at its location at 263 Bridge Ave., which has only 12 beds and is expected to turn people away regularly. Families were sent to motels without the 24-hour support or security features now in place in Tuscarora.
Wing 6 Earl. Jo-Anne Gignac, who spoke on behalf of her fellow council members, said the city "recognises the critical importance of supporting women and their families." As part of the 2022 budget, the city has committed an additional $85,000 in annual operating funds to support increasing the number of available rooms. It also allocated provincial funds for shelter services.
article content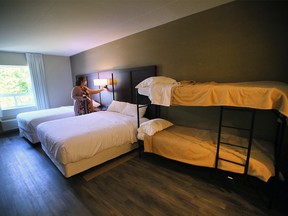 Windsor and Essex counties have about 460 known families who are homeless, said Jennifer Tanner, the city's homeless and housing support manager. A group of about 40 community agencies that interact with homeless people add names to a shared list and conduct assessments to match individuals with services based on need. That group meets every two weeks to review the list and "see where more matches can be made," Tanner said.
The Welcome Center's current location has been sold to another community support agency, said Laforet. After a long discussion about what to do with that building, the shelter's board determined that the proceeds from the sale "could really help inform a lot of our programming for years to come."
article content
The closest similar emergency shelter is in London.
New women's shelter, families under construction

Windsor family seeks affordable home after fire destroys duplex

Downtown Mission bids farewell to Victoria Avenue home
Laforet anticipates that the Windsor shelter will be fully operational by the end of this month, giving customers options.
"Hopefully, this will make, maybe, women who are couch surfers and not tied to any services at least give us a call," she said. "It's a lot more women that we can direct and redirect to housing support services if they really don't need emergency shelter."
The Welcome Center will begin moving single women to its new facility on Tuesday, Laforet said. She expects any technical issues with the building-wide keycard system or kitchen appliances to become known quickly, giving staff time to resolve issues before families move out.
The shelter will open at full capacity, Laforet said, and the intention is to keep it that way. In preparation for the move, many community agencies worked together to house around 20 families to keep demand low during the transition period.