"The minimum wage of US$ 14.25 is not enough, so the population lives in a very precarious situation."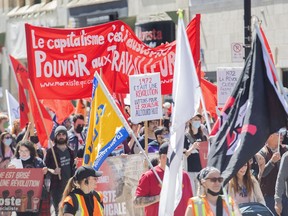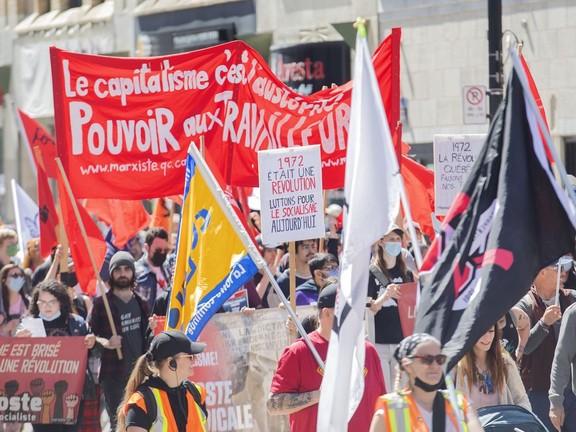 article content
About 1,000 protesters marched through the streets of Montreal on Sunday, on International Workers' Day, demanding a higher minimum wage and better working conditions.
article content
The event was organized by a coalition of around 15 unions and organizations. Participants, many carrying their union flags and some coming with their families.
"We have seen the cost of living increase. The minimum wage of US$14.25 is not enough, so the population lives in a very precarious situation," explained co-spokeswoman Benedicte Carole Ze, from the Center des travailleurs et travailleuses immigrants.
Quebec's minimum wage rose from $13.50 on Sunday, up 5.6%. While significant, it is lower than the 6.7% annual inflation rate reported by the Bank of Canada in April.
"It's not normal, it's not decent that workers have to work two or three jobs to stay in this precarious state," said Marie-Claude Tremblay, another coalition co-spokeswoman and a member of the Centrale des syndicats du Québec. CSQ) union.
article content
Solidarity Quebecer MNA Ruba Ghazal, present with a contingent of her party, said that the minimum wage must increase to US$ 18 per hour to offer decent living conditions.
"What is catastrophic and very irritating today is that people at the bottom of the ladder, who work full time, have to use food banks," she said.
The coalition also called for improvements in working conditions, including offering a better work-life balance, right to breaks and the right to early hours.
This year was the 50th anniversary of the Common Front, in which the three main union federations of the time came together to negotiate collective agreements for the public and parapublic sectors. Last month, unions CSN, CSQ and FTQ announced yet another common front for the 2023 contract negotiations.
Traditionally, unions in labor conflict lead the march. This year it was the strikers from Rolls-Royce Canada and the Molson-Coors factory in Longueuil.
This story was produced with financial assistance from Meta and the Canadian Press News Fellowship.