Don't mention the Bernabéu. Newcastle's traveling fans did, although it looked like they got away with it.
For Manchester City, it was about trying to move forward. The wounds from Real Madrid's Champions League semi-final freak show last Wednesday, when they lost a two-goal aggregate lead in stoppage time before going out in extra time, may never fully heal.
It's about learning to live with them, about entering a new reality and it's one that Pep Guardiola aims to gild with his fourth Premier League title in five seasons. Competition remains the truest measure of a team over the course of a season, and if City could do it again, how could they ever feel empty? Right?
City took a break from Fates on Saturday when Liverpool drew with Tottenham at Anfield. Few people had seen this result coming. That meant City had room for a draw in their run, but nobody at the club wanted anything other than victory here.
Inspired by Kevin De Bruyne, they did it with the bonus coming late – two goals in the 90 minutes that they were able to enjoy this time. They were scored by substitutes Phil Foden and Raheem Sterling, taking the club's goal difference to 68 more – four more than Liverpool's.
Sterling opened the scoring, with Aymeric Laporte taking advantage of a handling error by Newcastle goalkeeper Martin Dubravka 2-0 before the break. Rodri took third and Guardiola can now focus on three final challenges – Wolves and West Ham away; Aston Villa at home.
One defeat and City could still screw it up and Guardiola claimed he was on the defensive. Rúben Dias was forced out with a hamstring injury and Guardiola said he would miss the remaining games, as did Kyle Walker and John Stones, who were absent here.
If something can happen in a matter of seconds, Guardiola continued – with reference to the Bernabéu – then the same had to happen in three games. It's far from over. And yet, there's no doubt that he and his players can feel a lot better about themselves.
City had warmed up with number 10 shirts, agueroooo written above the numbers – a nod to the imminent 10th anniversary celebration of the most famous moment in the club's history. But it was about writing a new chapter. And, after some nerves at the start, City imposed their quality – none more so than De Bruyne.
Newcastle started aggressively and created the first big chance. When Allan Saint-Maximin crossed from the right, Chris Wood was alone for the header. He pointlessly directed it at Ederson.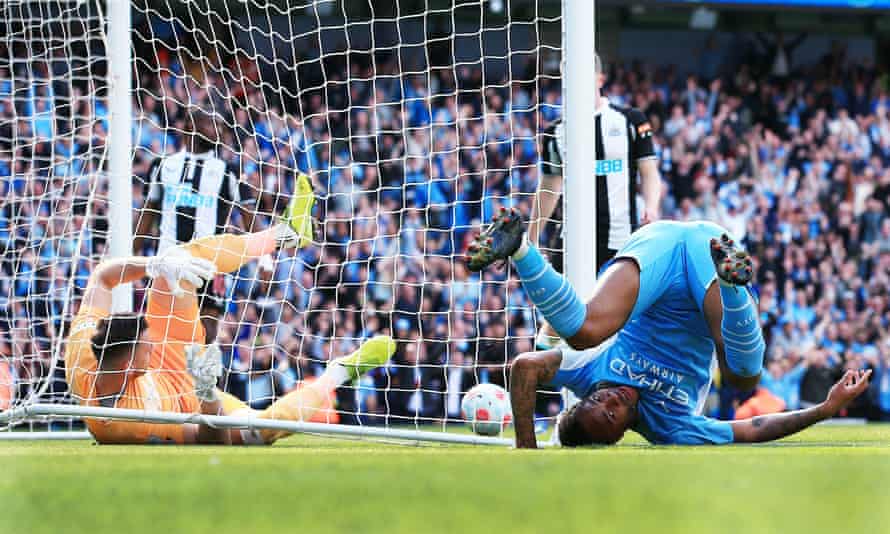 It was easy to imagine what would have happened if Wood had scored, and City's views looked wrong at the start of the race, with Laporte and João Cancelo taking advantage of presentable opportunities following deliveries from De Bruyne.
The comeback goal resolved them and was created by Ilkay Gündogan, whose cross clipped to the far post was tailor-made for Cancelo's run. Newcastle couldn't track him, and when he straightened up, Sterling waved home.
Newcastle shined again in the 24th minute, when Jamal Lascelles headed a corner for the goal and saw the ball hit Bruno Guimarães, who was offside. Wood passed the ball lost by Ederson, but the flag was raised against Guimarães.
City have turned the corner, with De Bruyne in one of those moods when he injects rhythm and purpose into all his entanglements. He drove with the ball at his feet, leaving black and white shirts in his wake, while his passes were the classic mix of effervescence and precision.
City had chances before the break. Sterling defeated Matt Targett to open Cancelo, who was denied by Dubravka at the near post, while De Bruyne twice and Oleksandr Zinchenko nearly hit Gabriel Jesus in front of goal.
City's second was a disaster for Dubravka. He couldn't hold back a volley by Gündogan from the edge of the area after a De Bruyne corner and, although it got to him through a crowd, he had to do better. He almost redeemed himself by snatching the lost ball from Dias, but it broke for Laporte who made a touch.
Two goals ahead and in control. What could go wrong? Nothing, as it turned out. City set the tone for the possession they put in in the second half, with 99% possession in the first eight minutes. And they secured the result on the spot when Rodri ran to the nearest post and broke away from his markers to take De Bruyne's corner. For Newcastle, it was a second set-piece concession and smooth, by the way. As Eddie Howe noted, City don't need gifts.
The Newcastle manager introduced Callum Wilson and Kieran Trippier after lengthy injury layoffs and both looked rusty. Wilson lost one against Ederson in the 83rd minute and Trippier was outplayed by Jack Grealish in City's fourth goal. When Grealish retreated, Zinchenko's shot was deflected by Foden.
Zinchenko extended Dubravka in the 67th minute and City did their best in the last minute. Grealish regained ground on the left and, after receiving a fine shot back from Foden, opened Sterling, who shot home.