LeBron James was pictured wearing a Ku Klux Klan hooded robe in a Photoshopped image accompanying Jason Whitlock's latest column for conservative website The Blaze.
Former Fox Sports host Whitlock, who has criticized James on multiple occasions over the years, wrote an article targeting the NBA star for the fatal attack on a teenager near the sportsman's I Promise School in Ohio.
Ethan Liming, 17, was beaten to death on June 2 in Akron after his friends got into a fight with a group of men playing basketball.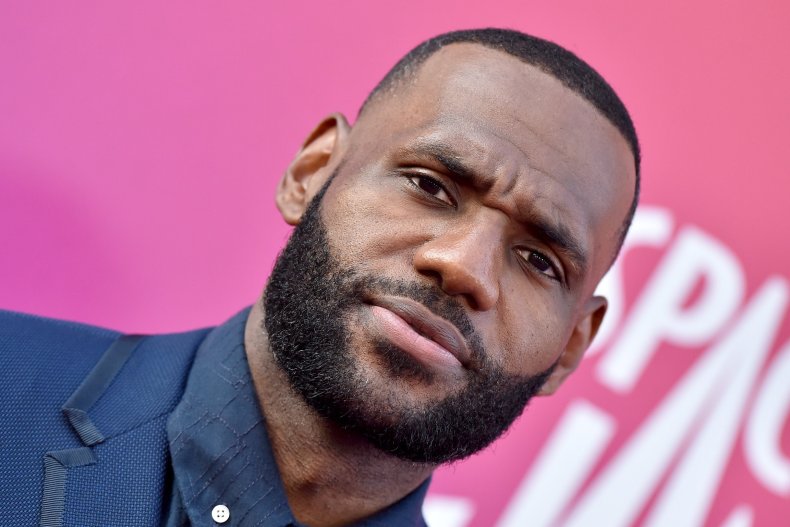 According to the Akron Police Department, Liming's friends fired a SPLATRBALL Water Bead Blaster gel pistol in the direction of the men before the violent confrontation.
TV Court reports that three suspects were arrested last week on murder and criminal assault charges following the incident, of which James tweeted on June 3: "Our condolences go out to the family who lost a loved one!! [May] the heavens above watch over you during this tragedy! Pray for our community!"
Whitlock reacted to James' statement in a column titled "Bigoted LeBron James Promises DNC – Dead Negroes Confederacy – To Stay Silent About Emmett Till 2.0 Murder", in which he recalled the Los Angeles Lakers player's comments about the Till family when Racist graffiti was sprayed on a gate at his home in 2017.
According to Slate, James said at the time that the incident "just goes to show that racism will always be a part of the world, a part of America. And hate in America, especially for African Americans, is living every day.
"And even though it's hidden most of the time, even though people hide their faces and say things about you, and when they see you, they smile in your face. You're alive every day.
"I think of Emmett Till's mother, actually. It's kind of one of the first things I thought of. The reason she had an open casket is because she wanted to show the world what her son went through to a hate crime. and being black in America.
"No matter how much money you have, no matter how famous you are, no matter how many people look up to you, being black in America is hard. We have a long way to go for us as a society and for us as African Americans. that we feel equal in America."
Emmett Till was 14 years old when he was brutally murdered by two white men in 1955 after allegedly whistling at a white woman. When his body was recovered three days later, he was so mutilated that he was only identified by a signed ring, according to History.com.
In his column, Whitlock accused James of "lying" about racist graffiti, saying he believed the sportsman's account to be false in 2017, "and I believe it even more today, analyzing his reaction to the murder of Ethan Liming in the parking lot of the famous school of James, Akron, Ohio, I Promise School.
There is no evidence that James lied about the graffiti.
"Liming and his family have a lot more in common with Emmett and Mamie Till than LeBron James ever will."
Whitlock then recounted the series of events surrounding Liming's death, before suggesting that James would have done more to say about the teenager's murder if he had been black instead of white.
After writing about the various public statements James has made about the deaths of numerous black Americans at the hands of whites over the years, Whitlock accused James of having "nothing substantive to say when blacks take lives".
When Whitlock shared a link to the article on Twitter on Thursday, several readers pointed to the photoshopped image of James sporting the white hooded robe worn by members of the KKK, the white supremacist terror and hate group.
"The picture is like WTF! Definitely clickbait @WhitlockJason is constantly looking for a new low point" he wrote a Twitter user.
"Even for you lately this is amazing clickbait," another tweeted. "I hope Glenn's check [Beck] It is worth it."
"The image is dismal," commented another. "I'm sure the article has some merit, but this gives it pause. Use common sense.
newsweek contacted a representative for James for comment.