Opinion: Billions of liters of ship waste have been dumped into marine protected areas since Canada promised to ban the practice three years ago.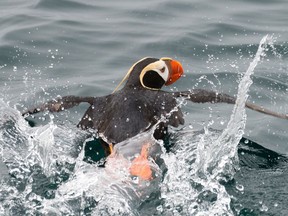 article content
Imagine Banff National Park, with the emerald waters of Lake Louise, breathtaking peaks of the Rocky Mountains and the grizzly bears, reindeer and wolves that call this protected landscape home. Now imagine a pipe discharging toxic industrial waste and contaminated water into the heart of the park.
article content
Most of us would find this unacceptable, but one version of this scenario occurs every day in our protected ocean waters. Even as we celebrated World Oceans Day earlier this week, ships in Canada's marine protected areas (MPAs) were dumping toxic and harmful operational waste, threatening the very wildlife that demands protection in the first place.
The problem is not just with ship operators. There is a commitment to a federal dumping ban on AMPs on paper – but delays in defining what should be included in that ban have led to inaction, and endangered species continue to pay the price.
Recent data from WWF-Canada demonstrates why this ban is so urgently needed. Our National Vessel Dump Assessment found that ships generate a staggering 147 billion liters of waste each year. Wash water from exhaust gas cleaning systems makes up the vast majority of this waste, and almost all of it is discharged directly into the ocean, including in protected areas.
article content
It's not that the federal government doesn't recognize the importance of ocean conservation. They proudly pledged to protect 25% of Canada's ocean and coastal areas by 2025 and 30% by 2030. In Spring 2019, they promised new minimum standards for MPAs that would provide the most sensitive parts of our oceans with a basic floor of protection. – including bans on oil and gas activities, mining, bottom trawling and dumping.
While COVID-19 has undoubtedly slowed down the process, the main delay is terminology. More than three years later, the government is still defining what these minimum standards will mean. This task is further complicated by the fact that there is no legal definition of "dumping" in Canada.
article content
There is a way forward that would simplify the process – a comprehensive definition of dumping that includes all types of harmful discharges from ships.
In addition to the scrubber wash water, our discharge assessment measured the amount of gray water, sewage and bilge water generated annually. These four waste streams collectively contain heavy metals, carcinogens, oils, microplastics, pathogens, toxic chemicals, and other pollutants that contribute to ocean dead zones, worsen acidification, and reduce the amount of carbon absorbed by the oceans.
Dumping of any kind is incompatible with the goals of protecting marine mammals, bird colonies and sensitive benthic habitats such as corals and ancient sponges.
article content
Simply put, we shouldn't call an area "protected" if any kind of eviction is allowed.
Take, for example, the Scott Islands National Marine Wildlife Area at the northern tip of Vancouver Island. One of the country's busiest shipping and cruise routes, the area was created in 2018 to protect millions of seabirds that come to breed and feed on the cliffs each spring, as well as other endangered species such as Steller's sea lions. and blue whales. But in just the first year after its creation, the ships dumped more than four billion liters of waste within their boundaries.
The promise of minimum standards was made with good intentions. When announced, Jonathan Wilkinson, then Minister of Fisheries and Oceans, said: "Canadians expect us to take steps to protect unique ocean ecosystems while ensuring coastal economies thrive."
But we now have the data to show the environmental cost of not turning that good intention into action.
Decision makers have the information they need to finally define dumping and put these minimum standards into practice. As Canada moves forward over the next eight years to double the amount of ocean space protected by 2030, it is critical to ensure MPAs are protected in more than just name.
Kimberley Dunn is Senior Specialist, Marine Conservation, WWF-Canada.