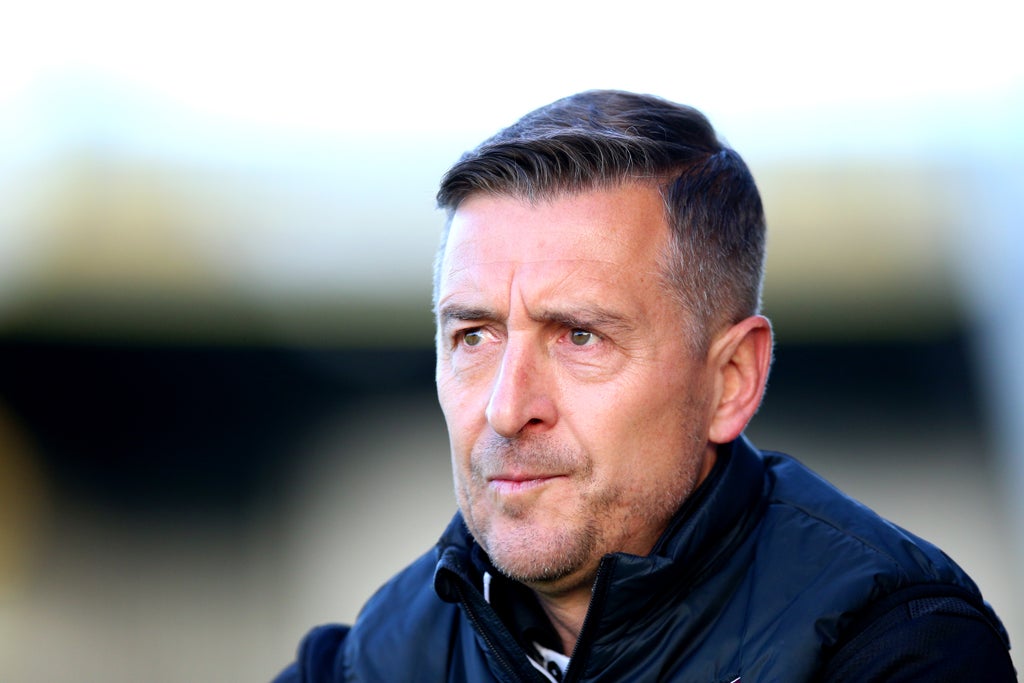 Northampton manager Jon Brady believes the moment is with his team as they look to overturn Mansfield's 2-1 lead in the first leg when the teams face each other again at Sixfields on Wednesday night in the play-offs. League Two offs.
Trailing 2-0 to first-half goals from Rhys Oates and Jordan Bowery, Ali Koiki's 61st-minute response put the tie back in balance and the Stags had to defend superbly to maintain the lead.
"We showed character and spirit to get back in the game in the second half and I thought we did well in the second half," Brady said.
"Credit to Mansfield. It was a strong game tonight.
"We are now looking forward to taking them back to Sixfields. We were strong at home all season.
"We definitely felt like we were on the rise in the second half and we will make sure to carry that momentum into the next game.
"We're back to 2-1, but we know we still have a lot to do.
"But we know what we can do.
"At halftime we told them that there were certain things we'd done all season that we weren't doing, and we seemed a lot more decisive and aggressive in our game.
"We came back when we had setbacks and are probably at our best when our backs are against the wall. We go out fighting and get results."
The Stags were ahead in the 13th minute when Bowery sent Oates to the right of the box and he finished low under Jonny Maxted.
The score was 2-0 in the 32nd minute when Bowery deflected the ball to the far post after Jamie Murphy's low cross from the left line.
But the Cobblers were back just after the hour when Mitch Pinnock and Louis Appere broke right in the center and Koiki ended the play with a low finish.
Mansfield boss Nigel Clough said: "It was more of a home win which is 14 out of 16 which is amazing.
"A lot of credit to Northampton after they got the goal – they put it on us and we had to defend extremely well.
"The effort and commitment was remarkable tonight, as it has been for most of the season.
"We haven't played anywhere as well as in the last few weeks and months, but that's the nature of the play-offs.
"They did very well to keep us from playing our normal game tonight.
"I would like the second leg to be tomorrow as I think we can play much better than tonight.
"I think our nerves were a little nervous at times and we didn't put our foot on the ball and play. I think we'll be better off outside.
"We are still there after 47 games."