Opinion: Leger research shows that British Colombians are shifting jobs to meet the demands of inflation and interest rates.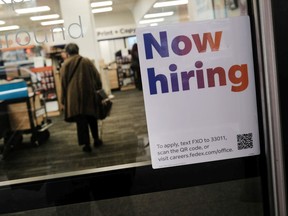 article content
As employees began leaving their jobs in waves during the pandemic, a new buzzword was born: The Great Layoff. Much of the chaos of job changes has been blamed on employers, who have been told they need to provide flexible working arrangements and invest in ensuring good mental health for all team members. These things are still important.
article content
However, with the COVID-19 crisis largely behind us and most employers adapting to new ways of working, stories still circulate about unforeseen rates of job change. Our team at Leger questioned whether the current economic pressures of rising interest rates and inflation are part of what is driving British Colombians to seek different jobs.
We were surprised that 37% of British Colombian workers reported that they have changed or plan to change jobs. This number can be divided into three groups: those who plan to get a new job in the next year (17%); those who have changed jobs in the last 12 months and are happy where they are now (15%); and those who changed jobs last year and plan to change again this year (five percent).
article content
The main reason cited in our survey for changing jobs? The need to make more money. This was true for 73% of those who changed jobs last year, and among those looking for a job this year, that number rises to 76%.
To find out what's driving this money-hungry job search, we asked British Colombians if their household income kept pace with the rate of inflation – 67% of British Colombians said no; 19 percent said yes; and four percent said their income increased faster than inflation. Interestingly, those who are self-employed are less likely to feel that their income is being exceeded by inflation (53%) when compared to those who are employed by others (71%).
article content
When asked about the severity of the inflation problem for households, 67% reported that it is a serious problem. Among self-employed workers, the problem was considered more serious (76 percent), and not so serious among self-employed workers (56 percent).
Interest rates are another important consideration for our province. Today, about half of British Colombians (48%) report this as a serious problem. Again, self-employed people reported not being as worried (43%) as their T4 income neighbors (57%).
Rising expenses will inevitably make it harder for many British Colombians to stay on the financial path, and it is natural for people to look for bigger paychecks to ease the pressures. How will employers who want to retain talent balance the need to retain their employees with the need for their business to be profitable? Something has to give.
Heather Owen and Jason Allsopp are vice presidents of Leger's Vancouver office. Survey data is from Leger's BC Omnibus Studies, conducted April 29-May 1 among 1,003 British Colombians.
---
Leger invites you to participate in future public opinion surveys by clicking here.