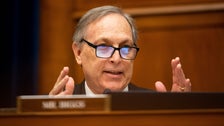 Representative Andy Biggs (R-Ariz.) gave a "cheesy" take on what Americans are discussing instead of the January 6 hearings.
The congressman pointed to one item in particular that Americans are talking about: tortillas.
"They don't want you to talk about 'Hey, the size of that packet of tortillas I bought last week before it came out used to look like regular corn tortillas, now they look like mini tortillas'." Biggs said on the same floor where U.S. Capitol police officers drew guns against a crowd on January 6, 2021.
You can watch a clip of Biggs' comments, shared by The Recount, below.
Far-right activist Ali Alexander, who organized the "Stop the Steal" campaign that supported Trump's false claims in the 2020 election, singled out Biggs as "instrumental" to uniting the effort "together," the Arizona Republic reported.
He and other GOP lawmakers have declined to work with the committee as it seeks to bring together the events surrounding January 6, according to the paper.
Twitter users were quick to scoff at the congressman's comments.