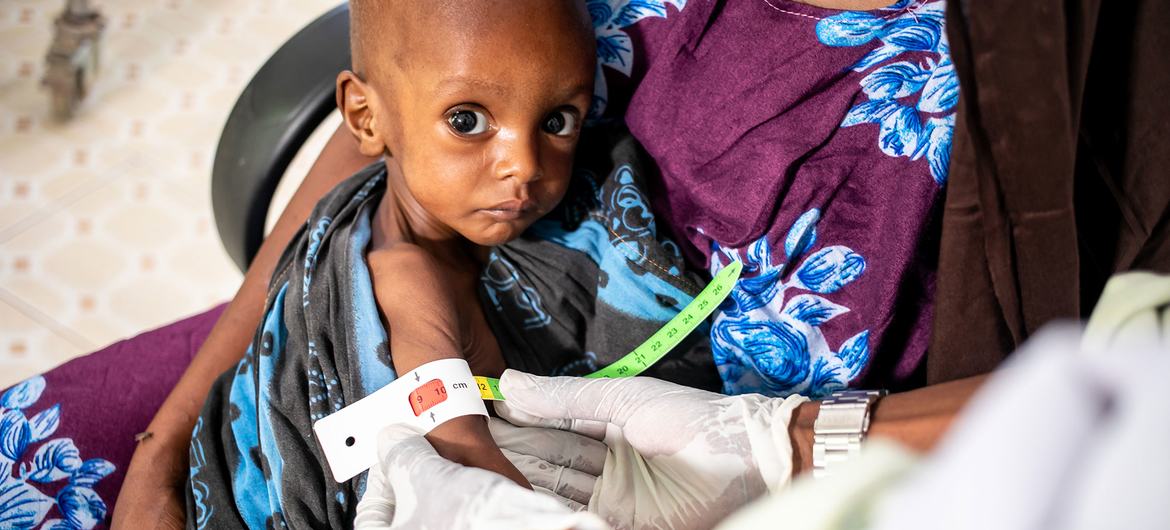 That's the alarming message on Thursday from the United Nations Children's Fund UNICEF, which issued the warning to 15 countries in crisis where the situation is worsening.
No matter the time, no matter the place, conflict creates suffering.

Join UNICEF to call #G7 leaders to fund the prevention and treatment of child hunger and malnutrition now. pic.twitter.com/DnU9qsfMq5

— UNICEF (@UNICEF) June 23, 2022
The UN agency's warning comes as world leaders prepare to meet for the G7 summit of major industrialized economies in Germany in the coming days.
$1.2 billion needed
UNICEF has asked for US$1.2 billion to meet the urgent needs of eight million children at risk of death from severe wasting, in 15 primarily African nations such as Burkina Faso, Chad, Kenya, Somalia and Sudan, but also Afghanistan and Haiti. .
The UN agency stressed that the number of desperately hungry children suffering from severe wasting continued to grow, in the countries where it raised the alarm.
Between January and June, which number has increased by well over 250,000, from 7.67 million to 7.93 million children.
prices rising
This comes as the price of ready-to-use foods to address serious waste, up 16% in recent weeksdue to a sharp increase in the cost of raw materials.
UNICEF has warned that the price hike has left up to 600,000 additional children "without access to life-saving treatment and at risk of death".
"Now we are seeing the conditions for extreme levels of child waste start to catch fire," said UNICEF Executive Director Catherine Russell.
"Food aid is critical, but we cannot save hungry children with sacks of wheat.. We need to reach these children now with therapeutic treatment before it is too late."
Rising food prices driven by the war in Ukraine, persistent drought due to climate change in some countries, sometimes combined with conflict, and the ongoing economic impact of COVID-19 are increasing food and nutrition insecurity around the world. , resulting in catastrophic levels of severe malnutrition in children under 5 years of age.
Lack of 'lethal' nutrition
Severe weight loss – where children are too thin for their height – is the most visible and lethal form of malnutrition. A weakened immune system increases the risk of death among children under age 5 by up to 11 times compared to well-nourished children.
Among the 15 countries highlighted as most at risk by UNICEF, the agency estimates that at least 40 million children suffer from severe nutritional insecuritywhich means they are not getting the minimum diverse diet needed to grow and develop in early childhood.
Furthermore, 21 million children suffer from severe food insecuritymeaning they don't have access to enough food to meet minimal food needs, leaving them at high risk of serious waste.