"It's a special place to play," says Suzuki, who looks like a future Habs captain. "It's an honor to play for the Canadiens."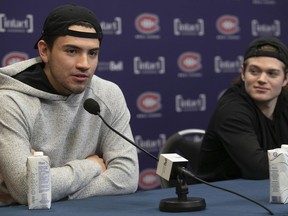 article content
It is fitting that Nick Suzuki and Cole Caufield were brought together to answer media questions on Saturday as the Canadiens held their post-mortem press conference in Brossard.
article content
Suzuki, 22, and Caufield, 21, appear to be the two key players in the franchise's future success.
Suzuki led the Canadiens in scoring this season with totals of 21-40-61 and Caufield led the Canadiens in goals and finished second in scoring with totals of 23-20-43. Both players flourished in 37 games after Martin St. Louis took over as head coach. Suzuki had 12-22-34 total with St. Louis behind the bench, while Caufield went 22-13-35 total, including a hat-trick in Friday night's 10-2 win over the Florida Panthers at Bell Center in the final game of the season.
Despite being so young, Suzuki and Caufield managed to shine under the hockey spotlight in Montreal.
"For me, I think just embracing the game in this market," Suzuki said. "It's a special place to play. It's an honor to play for the Canadiens. I think the (young) guys who join the team quickly realize how much we mean to the entire province and city of Montreal. It's so much fun to play here and just embrace the passion the fans have for us. You have to work every day to make them happy."
article content
Caufield said the key is not letting "outside noise" get to you in Montreal's hockey-crazy market.
"A lot of people have different opinions, but all that matters is what the guys in the room think of you and what your coaches think of you," Caufield said. "Those are the things you can control. So don't let the outside noise affect you, don't let it get to your head. Only control what you can control."
Both young players were invited to play at the IIHF World Championship from May 13-29 in Finland – Suzuki for Team Canada and Caufield for Team USA – but both decided to get a pass so they can focus on getting ready for the next one. season with the Canadiens. .
Suzuki said he was dealing with a lower back injury during the final weeks of the season, which is why he rarely trained with his teammates. He said he hasn't had a back problem for the past seven or eight games and it won't be a problem when training camp starts next season.
article content
Speaking of the upcoming season, Suzuki is one of the candidates to replace Shea Weber as captain. Weber spent the entire season on the long-term injury reserve list and it looks like his career is over, but the Canadiens have not named another captain. General manager Kent Hughes said he will try to negotiate Weber and the last four seasons of his contract, with an annual salary cap of $7.857 million, during the off-season.
"I think for me I want to take a leadership role," said Suzuki, who was alternate captain this season. "I think I've tried to do a good job since I joined this organization. We have a lot of good candidates to be the next captain. Older guys who've been through a lot. But for me, I don't really control any of that. The way I play, the way I deal with the team. It will likely be up to management to make that decision for next year."
article content
Caufield said he can see Suzuki as the captain.
"The way he carries himself on and off the track every day," said Caufield. "He's a true professional at such a young age and he's definitely someone I look up to. On a day to day basis, he's quiet in the room, but he does things right on ice and I think a good leadership role is having the guys see what he does and that pushes the rest of the group. I think a lot of guys look up to him. They don't look at his age. They just know what kind of guy he is and he pushes the rest of the team."
General manager Kent Hughes said Saturday that the plan is to have a new captain next season.
"We haven't had a significant discussion," Hughes said when asked about the captaincy. "I think (Martin St. Louis) has brought leadership to this team from a coaching perspective and we will continue to assess here during this off-season what is the right situation for a leader."
article content
Hughes added that management will look at what the squad is like before the start of next season compared to this season and look at what the challenges will be for the new captain.
"So we're going to decide who is the right person for it or if the right person is ready for it at that moment and we're going to make a decision," the GM said.
Veterans Brendan Gallagher and Joel Edmundson would also be strong candidates to be the new captain if management decides Suzuki isn't ready yet. Management may also not want to put additional pressure from the "C" on Suzuki next season as he enters the first season of his new eight-year, $63 million contract with a salary cap of $7.875 million.
But Suzuki certainly looks like a future Canadiens captain.
Stu Cowan: Some big questions for Canadiens GM ahead of next season

Canadiens' Brendan Gallagher confident he can bounce back