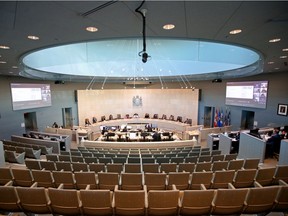 article content
The Council, led by Michael Janz, is considering progressive property taxation. This is another one of their reckless attempts to raise tax dollars by punishing the "rich". An earlier proposal was to cut Epcor's top management salaries to free up cash for the city's coffers, seemingly without recognizing that it is these highly skilled people who are responsible for the city's $175 million in annual dividends.
article content
Now, he proposes raising taxes for expensive homeowners. What a wonderful way to attract new executives and their businesses. And what a great time to raise taxes anyway — when inflation is driving up interest rates and causing fears of foreclosures not seen since the 1980s.
My own observation, which I'm sure is widely shared, is that there is a lack of accountability in our mismanaged civic government, leading to waste and overrunning an endless series of questionable projects. The city should lower, not raise, taxes by increasing efficiency and focusing on projects that matter to taxpayers.
A fundamental problem is that there are many board members who don't have the experience, mindset or training to run a multibillion-dollar corporation. As voters, we are responsible for this situation and we need to correct it in the next elections.
article content
LF (Lee) Doty, Edmonton
Not seeing eye to eye with Danielle Smith
I cannot imagine a more foreign perspective and political agenda to my way of thinking, values ​​and beliefs than the views expressed by Danielle Smith in her candidacy for the leadership of the UCP. Danielle Smith is so far-right that she may soon meet people who come from the radical left.
Fortunately, that puts Danielle Smith, and everyone else with such extreme views, somewhere on the other side of this political planet. We will never meet.
Karlis Poruks, Edmonton
Faith offers a lifeline from hopelessness
Re. " 'I want to go out whenever I want' " June 22
How sad that Eric Coulam is suffering from a clinically undiagnosed condition. How sad that after a period of time, Eric is trying to end his life. Too bad there is no mention of the family receiving any kind of spiritual help. Please understand that I do not dismiss any pain or suffering as a reality that Eric and others like him experience as their reality.
article content
But when a secular society derides a personal faith in Christ, then many accept that God does not exist. So when one finds himself in a dilemma, prayer is absent from thoughts as a lifeline to hope. The mercy that may have been gained from personal faith is lost and hopelessness drives some to find alternative solutions.
Gary Burton, Edmonton
welcome letters
We invite you to write letters to the editor. A maximum of 150 words is preferred. Letters must contain a first and last name, or two initials and a last name, and include an address and daytime telephone number. All cards are subject to editing. We do not publish letters addressed to third parties or sent to other publications. Email: [email protected]