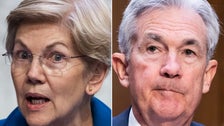 Senator Elizabeth Warren (D-Mass.) told Federal Reserve Chair Jerome Powell that he should be careful not to "tid the economy into a recession" with interest rate hikes.
Warren, at a Senate Banking Committee hearing on Wednesday, discussed how rate hikes to help deal with rising US costs could push the economy off a "cliff," CNN reported.
Last week, the Federal Reserve raised its interest rate by three-quarters of a point, its highest since 1994.
The move, aimed at neutralizing inflation by making borrowing money more expensive, raised concerns of a potential slowdown in economic activity.
Treasury Secretary Janet Yellen also said she believed economic activity would slow. However, she said she doesn't think a recession is "inevitable".
Warren told Powell, "Inflation is like a disease, and the remedy has to be tailored to the specific problem, otherwise you can make things much worse."
"Right now, the Fed has no control over the main drivers of rising prices, but the Fed could slow demand by laying off a lot of people and making families poorer."
Warren asked what was worse than high inflation and low unemployment and then gave Powell an answer: high inflation with recession and millions out of jobs.
"I hope you consider this before you take this economy over the edge," she said.
You can watch a clip of Warren's address to Powell below.
Powell said the Federal Reserve "wasn't trying to trigger" a recession and doesn't think it will need to trigger one.
Economists polled by The Wall Street Journal predicted that the probability of a recession next year is 44%, compared with 28% in April.
The paper called the percentage a "level usually seen only on the brink of or during real recessions."