article content
Currently, it's -8.9 C at the Edmonton Blatchford station with 23 km/h winds, gusting to 34 km/h from the north, northwest making it feel like -18.
So I guess this is just the way things are now.
Sure, it's not like we're living in Lethbridge, or insert name of windy southern Alberta locale here, but still this wind is hardly ideal. Forecasters aren't giving us much hope either with wind gusts of 30-50 km/h expected to stick around for the better part of this afternoon before easing up somewhat to 20-40 km/h later tonight. I guess that's good?
Oh, and snow. Did I forget to mention the snow? We could see some snow (about a 60 percent chance) starting sometime tonight after 8 pm and carrying on into tomorrow morning.
Oh and wind chill. Did I forget to mention the wind chill? Looks temperatures will be hovering around the -10 C mark tomorrow morning but like it'll feel closer to -18 with the wind.
article content
I swear, it was just 20 C the other day and I was doing yard work. April, why must you torment us so?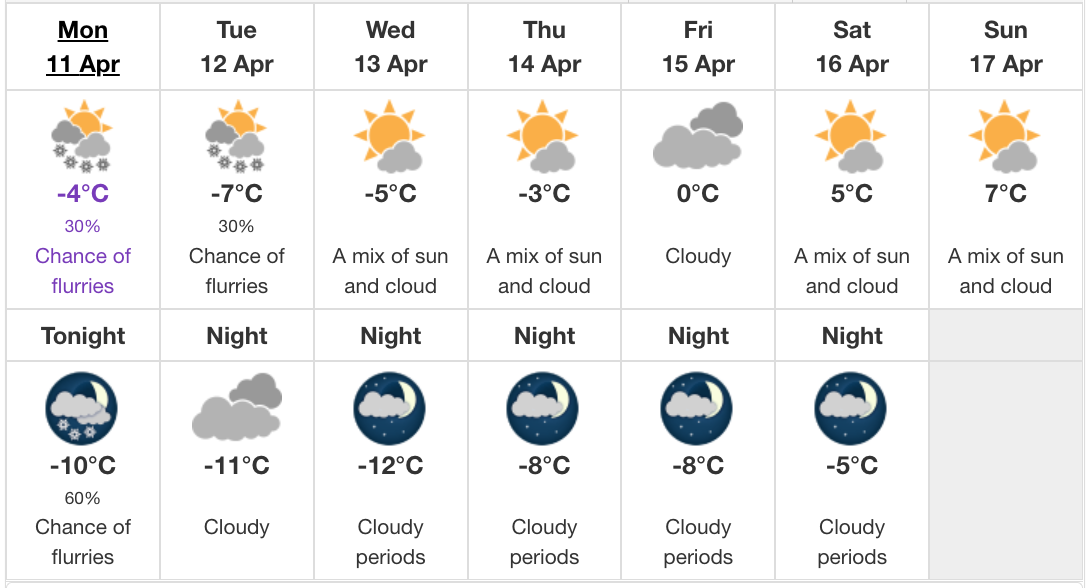 ---
Today's forecast
Today: Sunny this morning then a mix of sun and cloud with 30 percent chance of flurries this afternoon. Wind north 30 km/h gusting to 50. High -4 C. Wind chill -15 this morning and -10 this afternoon. UV index 3 or moderate.
Tonight: Mainly cloudy with 60 percent chance of flurries. Wind north 20 km/h gusting to 40. Low -10 C. Wind chill -10 this evening and -18 overnight.
Tomorrow: Mainly cloudy with 30 percent chance of flurries. Wind north 20 km/h. High -7 C. Wind chill near minus 18. UV index 3 or moderate. Cloudy overnight. Low -11 C.
sunrise: 6:44 am
Sunset: 8:26 pm
normals
Average High: 11 Ç
Average Low: 0 Ç
yesterday
Max: 2.4 Ç

Mine: -2.8 Ç

Precipitation: 0.4 mm
On This Day (1996-2020)
Highest temperature: 18.3 C in 2004
Lowest temperature: -8.0 C in 1997
📸 Eye On Edmonton
This space is dedicated to some of the great and interesting photos taken by Postmedia photographers while they're out and about town.
Scroll through our archived Eye On Edmonton photo galleries.
Follow Postmedia photographers on Twitter.