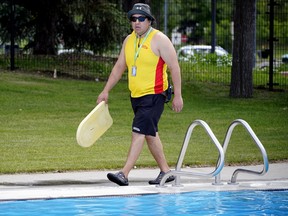 article content
Summer is here, the pools are open, but COVID-19 has blocked the flow of new lifeguards and swim instructors leaving recreation centers in Alberta understaffed.
article content
Heather Scherer, general manager of Jamie Platz Family YMCA in Edmonton, said COVID-19 has disrupted training and recertification programs for lifeguards and swim instructors and many workers have had their certification expired in the past two years.
"There was the two-year gap of not training anybody, so basically the pipeline for getting new employees broke and we've just been trying to catch up since then and we're still not up to date today," said Scherer, subject aquatic subject matter expert for the YMCA of the Northern Alberta.
Before the pandemic, the Northern Alberta YMCA, which operates four large recreation centers, employed about 240 aquatic staff in Edmonton – now, there are just 123 lifeguards and swim instructors left.
article content
"We could be serving probably twice as many kids who want to learn to swim. Our membership could be higher, but we're short on staff and that's holding us back," Scherer said.
Scherer said the current aquatic labor shortage is felt across the province, possibly across the country, and is affecting all recreational centers.
She said the YMCA is having to limit its pool numbers to a ratio of one lifeguard, compared to two or more lifeguards on shift at a pre-pandemic time. Fewer people can swim, and Scherer said that sometimes pools are closed early because no staff are available to work.
"Swimming is a life skill. All Canadians should be able to experience this," Scherer said.
"The YMCA is a non-profit organization that also subsidizes people, so we want everyone to learn to swim. We want families to come and swim. There are not enough places for kids in classes or even families to swim on the weekends recreationally, there is this big gap after two years without swimming during COVID."
article content
Albertans who wish to become lifeguards or swim instructors must have a Bronze Cross or Bronze Medallion in addition to completing the National Lifeguard program, Scherer said. She added that the cost to become a lifeguard can be over $700 and the YMCA tries to eliminate that cost barrier so people can afford it.
"What we're hoping for is more government help in regards to training grants," said Scherer, who said this would allow training more lifeguards to fill vacant positions.
Scherer encourages anyone to become a lifeguard or swimming instructor.
"Lifeguarding and swimming instructors have been seen as a job for a young person, that kind of high school or college student, but the market will likely be shifting more towards people who are looking for work with flexible hours, or people who are early retired," she said.
Anyone interested in becoming a lifeguard or swim instructor can find more information at northalberta.ymca.ca.