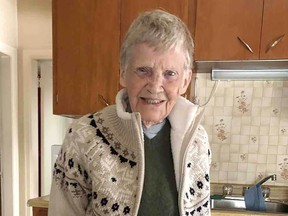 article content
It seems impossible to stop thinking about the terrible dog attack that took place in Calgary a few days ago. Can any of us understand how an 86-year-old woman working in her backyard can be attacked, ravaged and killed by three out of control dogs?
article content
My heart goes out to this family, and we must also think of the first responders who had to help in what must surely have been a scene from a horror movie.
There is anger at the fact that these dogs were on the loose. They are no different from improperly stored assault weapons, and these dogs should have been euthanized by now. No discussion, no analysis, no compassion for dogs; they killed someone and that's enough for me.
Listening to people trying to defend cruel races is another thing that pisses me off. The rhetoric goes something like, "It's not the dog's fault, it's the owner's." And that doesn't cut any mustard with me. This is simply a variation on the statements often heard in the United States: "Guns don't kill people, people kill people." what a crap.
article content
Remember the story of the scorpion who convinces the frog to take him across the river and then bites the frog. As the frog is dying, he asks, "Why?" and the scorpion replies, "It's in my nature."
I just don't understand the desire of some people to own dogs that, while gentle, are menacing in appearance and frightening to others. I would not let a child play with these dog breeds any more than I would let a child play with an unloaded gun.
This is not everything. I am very upset with some in the media, city council or local talk shows who have tried to politicize this terrible event. I heard comments about the government of Alberta, the dispatcher, the EMS system and even the person who made the call. There were more comments about the time the ambulance took to arrive than expressions of concern for the victim and her family.
article content
Almost nothing was said about the dogs, the dog's owner, or the circumstances that found them loose in the alley. Local politicians commenting on how this was a failure of the EMS system were doing nothing more than election propaganda and it was so offensive in the face of such a tragedy.
Is the EMS system stretched? I think we can assume that is the case. I have spoken with heroic EMS workers and understand that there are problems with recruitment, training and waiting times in hospitals. The results of the investigation will be very important, but for certain individuals to be so eager to find flaws in the government that barely mentioning the victim simply makes my blood boil. The focus should be on the dogs, the dog owner, what made them so cruel, why they were on the loose and how we prevent this attack from happening again.
article content
In a city of a million people, tragedy will occur. We are lucky to have caring and professional people. Surely our aim must be not simply to accept the behaviors that cause tragedy, whether through guns, drinking and driving, or feral dogs. God forbid that any of us encounter a pack of dogs, a maniacal gunman, or a crazed van driver; but in civil society, it is essential that when we see threatening situations, we act to prevent them and speak with a strong voice. This is not the time to try to score political points.
George H. Brookman is chairdresser and company ambassador for WCD Ltd.