Casting a long shadow over the debate was Representative Michelle Rempel Garner's devastating explanation of why she will not seek leadership.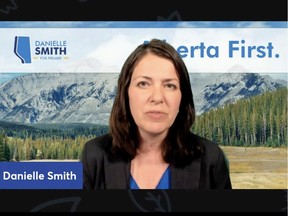 article content
The UCP candidates' debate on Thursday over the so-called Law of Sovereignty was calm and calm, the way you might converse with a keg of dynamite in the room.
article content
In the end, Danielle Smith had only one ally for her plan to nullify federal laws deemed by the legislature to be hostile.
This is now what she can take until the end of the campaign on October 6th. Her standard-bearer status ensures that she gets the most votes from the hardliners, but her lack of allies also tends to weaken her argument.
The other candidates expressed strong opposing views. "We can't just not follow laws we don't like," said former minister Rebecca Schulz.
Brian Jean, Smith's successor as leader of the former Wildrose Party, said: "I agree with most elements (of the Sovereignty plan), but I disagree with the rule of law. If you don't have the rule of law, you are heading for tyranny."
Travis Toews said: "I deeply believe that Alberta needs to assert autonomy whenever it can, but I am not in favor of the Sovereignty Act.
article content
"The Sovereignty Law would bring a level of uncertainty and chaos and harm growth," said the former finance minister. "Investors look for predictability."
Independent MLA Todd Loewen came closer to Smith's position. "The Sovereignty Law is a great place to start, but we can do a lot without the law," he said. "Danielle brought this discussion forward because it needs to be done."
Leela Aheer said people are tired of political bickering and far more concerned about pocket-sized issues like fuel costs. "They don't want the government to fight over everything."
Rajan Sawhney said elements of the Sovereignty Act "sound like a distraction." She preferred to talk about the challenges of the resource industry.
article content
The Law was the key point of discussion, which was not surprising as the forum was hosted by the Free Alberta Strategy group, with ex-MLA Rob Anderson hosting and asking the questions.
Candidates were mixed in other elements such as provincial tax collection and an Alberta police force, although Smith endorsed all moves towards provincial autonomy.
Casting a long shadow over the debate was Representative Michelle Rempel Garner's devastating explanation of why she will not seek leadership.
She basically concluded that the UCP government is impossible to govern, driven by an enduring power struggle between those who still support Prime Minister Jason Kenney and others who want him and his team eliminated immediately.
article content
"In over a hundred conversations I've had with people close to the situation over the past week, my main conclusion has been that the bitterness that led to Jason's leadership review is still raw," she wrote.
She says it's not much different from what's happening in the federal Conservative Party, and wonders how she could handle it as a newcomer to the provincial scene.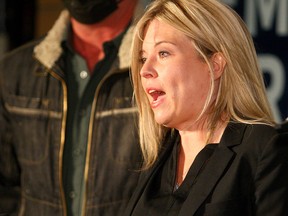 As many have noted on Twitter, Rempel Garner's conclusion is very similar to that of NDP leader Rachel Notley: that the UCP caucus is dysfunctional and perhaps irreparable in the year before the next election.
This blows up many messages from the candidates who were debating on Thursday night. They like to say that everyone is trying hard to get along and putting conflicts aside. Just a happy CPU family.
article content
The surface is calmer, in part because Kenney lost the big battle and will resign. But there are still many scores to settle inside the big tent.
Rempel Garner also concludes, "No one I spoke to felt there was a simple political vision that could inspire the team enough to easily bridge this divide in a short period of time."
A government can normally obtain findings like this from a contracted consultant, in a report that would not be made public. Never from a conservative ally with 144,000 Twitter followers.
MLA Richard Gotfried, a thoughtful critic of Kenney, finally exploded on Twitter. "Childish, cowardly and self-indulgent (assholes), resulting in censorship, backlash, exclusion, ostracism!" He said all those words were used in the caucus.
Rempel Garner took a long time to make his decision. In the end, she had more impact by staying out than she would have come in. Her words could haunt the entire leadership campaign.
Don Braid's column appears regularly in the Herald.
Twitter: @DonBraid