IIn a church hall in the market town of Sutton-in-Ashfield, Nottinghamshire, a group of locals are busy preparing a variety of meals from scratch, using skills they learned in a 15-week community cooking course.
They never expected to be thrust into the national spotlight this week when local Conservative lawmaker Lee Anderson said the country's food poverty is due to people not being able to cook and budget properly.
He invited opposition lawmakers to visit his local Let's All Eat food bank, which also encourages some long-term food bank users to attend the cooking course they run in conjunction with Sutton Community Academy.
Many of the people who attended Thursday's class felt Anderson was right. "If people are taught how to cook properly, maybe they'll have a little more money in their pockets instead of spending it on takeout," said Jennifer Quimby, a 38-year-old caregiver with four children.
"Obviously there are people out there who just don't have the money, maybe their benefits have changed or they've lost their jobs, and they really need that help. No amount of cooking knowledge is going to help with this.
"Everyone's bills are going up too. My fuel costs are out of this world, and with food on top, it all adds up. But knowing how to cook proper food makes things cheaper. I waste a lot less now."
The class, which is voluntary rather than mandatory, as Anderson suggested, teaches people in the local community to use economical, healthy ingredients "so they are better able to stretch the scarce resources they have," said Simon Martin, director of Let's All Eat.
They are now also investing in several slow cookers to teach people how to cook meals using less electricity. "Our mission is to greatly help the community become more self-sufficient in the long term," said Martin. "But there is still very real food poverty here. Since May 3, we have had 23 new referrals for basic food baskets. And this is increasing as we speak.
"Clearly the cost of living and the energy crisis are taking a toll and where the numbers are going to go this time, we just don't know."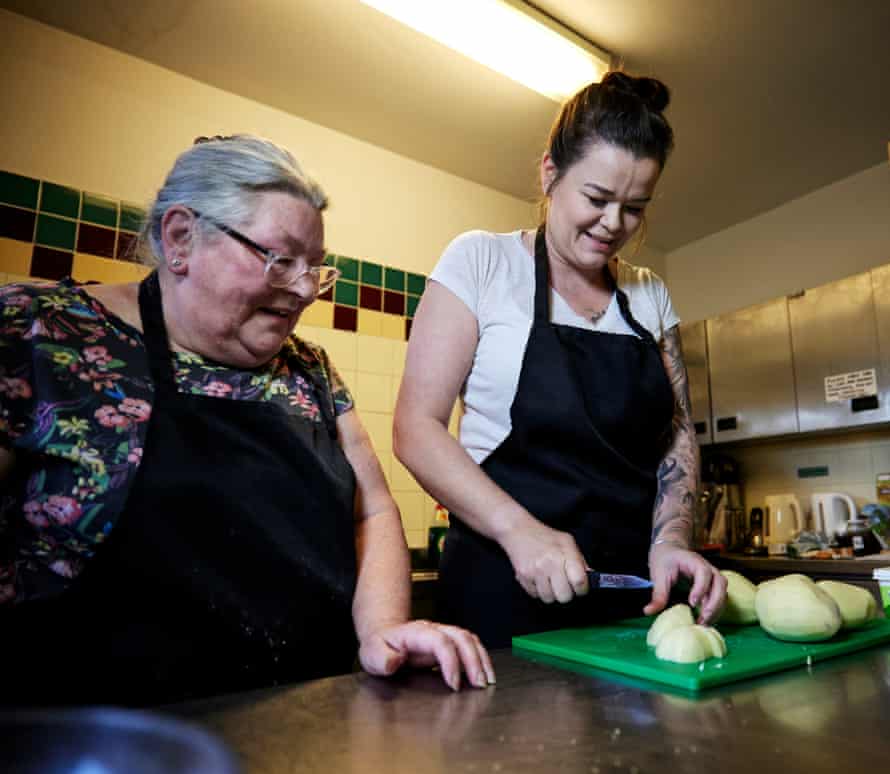 At another district food bank, people weren't as sympathetic to Anderson's views. "This is a lifeline for me, without it my children would go hungry," said a mother of four, who asked not to be identified, visiting the food bank for the second time. She had to stop working due to illness and her universal credit payments stopped.
She prides herself on being able to cook fresh meals from scratch using whatever ingredients she has in the package, researching anything she has never seen before. "Everything I have goes into accounts. I just find it quite patronizing, especially when you think about what lawmakers are walking away with each month, they're not struggling and a lot of us are," she said.
Some parts of Ashfield are among the most deprived in the country, with data from the House of Commons showing that about 16% of the electorate is "highly deprived" and nearly a third of students receive free school meals.
Jason Zadrozny, leader of Ashfield Independents that controls the local council, said he was inundated with messages from angry residents over Anderson's comments.
"He's so out of touch – it's an insult to the entire Ashfield community," he said. "People are furious."
Zadrozny came in second after Anderson in the 2019 general election, when the Conservatives pulled the former electorate out of the "red wall" of the Labor Party, which had controlled it almost continuously since its inception.
"In 2019, there were a lot of people in Ashfield who lent their vote to the Conservatives for the first time, and he's mocking them now," he said.
In Let's All Eat, they said that there is not much time for political debate when there is a rising tide of people who need help.
"We're delivering about 150 emergency packages a week now," said Linda Smith, the food bank's manager. "We have people asking for things they can heat on the stove because they don't have the money to maintain the oven. We don't want to get involved in politics, we just want to help people."