Men suffering from chronic alcoholism and homelessness in Montreal can now turn to the shelter for help.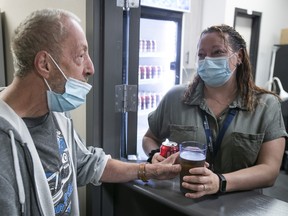 article content
Stéphane hasn't had to beg money for three weeks.
article content
"Before, I begged every day," he said Wednesday from the fourth floor of Montreal's Old Brewery Mission.
When Stéphane needed money, it was partly to buy alcohol to feed a heavy addiction he said started 15 years ago. Twelve of those years were spent on and off the streets.
"I'm fed up," he said. "I think I'm in the right place."
Among the comments, Stéphane drank a beer – one of several that will be given to him daily, in predetermined doses, throughout his stay at the Old Brewery Mission. Stéphane (who preferred to keep his last name private) is one of the few early participants in an alcohol control program that he officially opened at the shelter on Wednesday. It aims to meet the needs of homeless men with chronic alcoholism in Montreal.
article content
For people like Stéphane, until now, there seemed to be no realistic avenues for long-term aid in the city.
"Historically, emergency shelters have not been able to take in people who are very intoxicated," said Élaine Polflit, coordinator of the Continuum Vulnerable Populations and Crisis Intervention at CIUSSS du Centre-Sud-de-l'Île-de -Montreal . "These people have historically been even more marginalized than people who are already homeless."
The inability to access existing services has left chronic alcoholics in precarious situations, often having to rely heavily on health and emergency services.
"We've seen some of the participants on this show going back to the hospital unit because they were hit by a car, because they fell down the stairs, because they got into a fight and didn't even know it," said Mission Old Brewery President and CEO James Hughes. "And that's the kind of risk they face every day, and that's the kind of risk that we're going to try to reduce and eliminate through this program… harm happens to these people."
article content
The program is not the only one of its kind in Montreal, but this one is unique in that it is specifically located in an emergency shelter. Funded by the provincial government and administered by the shelter and the local CIUSSS, the program is intended to be a transitional phase to stabilize a person's health so that they can move on to services that were previously unrealistic options for them.
The goal isn't necessarily for users to completely stop drinking, "but for many, it becomes a path they couldn't have imagined until now," Polflit said.
The program offers more realistic help to people with chronic alcoholism for whom strict options like detox programs and AA don't work, Polflit said. Many of the people they anticipate will join have already tried and failed to pass others.
article content
"We know from research that there is a population that their problem with alcohol is so serious and so chronic, that there's no way asking them to go through something mandatory will work," Polflit said.
Stéphane is one of those people.
"Stopping at once is very difficult," he said. "I have been drinking non-stop for 15 years."
The programme, which follows a pilot project at the former Royal Victoria Hospital, has a capacity for around 30 people at a time and has no fixed duration. When a person starts, they consent to having their alcohol consumption managed by the shelter. Dosage is determined through discussions with the participant and staff and is administered once an hour throughout the day, with the aim of preventing withdrawal and intoxication.
article content
"We try to find that sweet spot where the person feels comfortable," Polflit said.
What this does is divert a person's motivation from finding ways to consume once the need has already been met, said Emilie Fortier, director of St-Laurent Campus services at the shelter.
"Here it's stabilized, safe," she said. "Slowly, we have people who have started playing chess, for example, taking time for themselves, buying electronics, discovering Netflix. Stuff like that. Things that they didn't even have the mental or physical space to get to those goals (before)."
Stéphane said on Wednesday that he has projects planned for the future. Though he's only been on the show for a few weeks, he said he feels like he's already changed — he's more social, which he attributed to better sleep, and physically, he feels fine.
"I was really confused. I was 80 years old before I started here," he said. "Now? I'm 49. I'm my age."
Neighbors oppose Hochelaga shelter, but advocates say needs are growing

Shelters hope pandemic spurs solution to city's homeless crisis

From a homeless shelter to a dream job: Exponti'elles helps clients dream bigger