Health Minister Jason Copping said positive trends with the transmission of the virus allowed Alberta to remove health measures.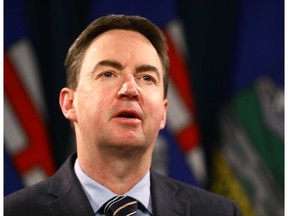 article content
Alberta is further reducing its reporting and updates on COVID-19 as virus rates in the community continue to decline, Health Minister Jason Copping said Wednesday.
article content
This comes a week after Alberta lifted nearly all remaining COVID-19 restrictions, with masks no longer needed on public transport and isolation with virus symptoms now voluntary.
Copping and medical director of health, Dr. Deena Hinshaw spoke Wednesday at Alberta's scheduled final update on the novel coronavirus.
"A system for managing public health threats existed before the pandemic, and Alberta will resume much of that earlier approach, incorporating essential lessons learned from COVID-19," Copping said. This includes maintaining a virus surveillance program, including testing and monitoring wastewater. Some protections, such as masks at Alberta Health Services and contracted healthcare facilities, will remain in place.
article content
Plans to respond to a seasonal increase in fall and winter cases are being developed, Copping said, including by monitoring outbreaks in long-term care settings.
He added that positive trends with the transmission of the virus allowed Alberta to remove health measures.
Virus levels in wastewater are at their lowest point since the fall of 2021. Alberta's test positivity rate is now 12.2% in the last week – about the same as the peak of the fourth wave, but well below the values ​​recorded after the emergence of the virus. Omicron variant.
Last week, hospitalization rates for COVID-19 dropped in Alberta. There are currently 661 people with the virus in the hospital, of which 17 are in the ICU.
Thirteen deaths from the virus were reported in the province last week. The virus has killed 4,604 Alberta residents since March 2020.
article content
The province will continue to report COVID-19 data online weekly, although the types of data available may change over the next few weeks, Hinshaw said.
Alberta's top doctor said she continues to wear a mask in public places, saying she believes it is "prudent" to do so when test positivity rates are above 10%, but that people can make their own decisions about their use. of masks.
Minimal details on vaccine expiration in Alberta supply
It is unclear how many doses of the COVID-19 vaccine in Alberta's inventory are expected to expire in the next few months. Alberta Health said in a statement to Postmedia that it did not have detailed data readily available, but said some vaccine wastage due to expiration is expected and that only about 27,000 doses — or 0.23% of the province's supply — have expired in Alberta by this time. the moment. .
article content
"At this time, we have no concerns about the expiration of vaccine supplies in Alberta," said Lisa Glover of Alberta Health.
When asked during Wednesday's press conference, Hinshaw said she didn't have that information about vaccine expiration dates or the amount that expires.
Other provinces provided this information to reporters; British Columbia officials told Global News this week that more than 225,000 doses were due to expire in that province in July.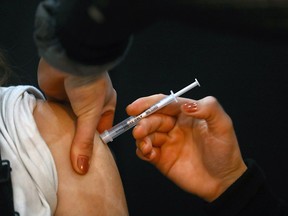 Vaccine wastage is unavoidable, but slow vaccine absorption increases the amount of unused doses, said Calgary public health physician Dr. Jia Hu. About 45% of Alberta residents age 12 and older received three doses of the vaccine, a number that has remained relatively stable in recent months.
article content
"It would be great if there were fewer wasted doses, mainly because it would mean more people would be vaccinated with the boosters," Hu told Postmedia.
"Fundamentally, what we've seen is a deep plateau in wave vaccine uptake… I just wish more people were vaccinated."
Although significant volumes of Alberta's COVID-19 inventory are about to expire, access to fourth doses remains limited in the province. Currently, Albertans aged 70 and over, as well as all seniors in congregate care and First Nations, Metis and Inuit people aged 65 and over can receive a fourth dose if at least five months have passed since the previous injection.
Eligibility criteria are similar to most other Canadian provinces, but significantly stricter than requirements set in the United States.
article content
Expanded access to fourth doses will be rolled out across Canada, said Hu, who is a non-voting member of the National Advisory Committee on Immunization.
"Exactly who (it's going to expand), I'm not sure. I hope all adults. The US has always been a little more permissive with its vaccines, although Canada tends not to lag far behind," Hu said.
"I think it will be great that there are fourth doses for everyone, but I think it is a decision that NACI will make soon and the provinces will adapt."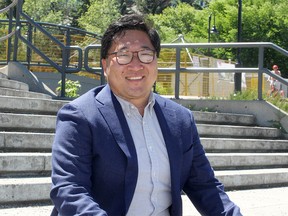 Hinshaw said officials are continually evaluating to determine who will benefit most from vaccine boosters. She said Alberta residents under the age of 70 have good protection from severe COVID-19 outcomes if they get their first booster and added that the province's eligibility is in line with current NACI recommendations.
article content
She added that the province is making "strong recommendations" to encourage continued vaccination against COVID-19.
"There are ad campaigns underway at the moment to encourage Alberta residents to receive all the doses they are eligible for, and we are working to prepare for what we anticipate will be the need to provide additional boosters in the fall, as we do. with the flu," Hinshaw said.
Hu added that vaccines for children under five, which are now being administered in the US after recent approval, are likely to be approved in Canada "within a few months".
Twitter: @jasonfherring