"We're not going to move forward until I'm absolutely comfortable that we're not going to leave anyone else behind on the show."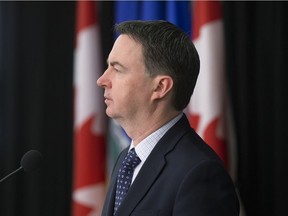 article content
The Alberta government is halting planned changes to the province's insulin pump coverage following public outcry from many Albertans with diabetes.
article content
The government announced last week that Alberta's Insulin Pump Therapy (IPTP) Program would be discontinued effective August 1. to find a government-sponsored health benefit plan, such as Blue Cross, unless they have insurance through their employer or a private plan.
But Health Minister Jason Copping told reporters on Thursday that the government is putting those plans on hold.
"We are not going to move forward on August 1. And we're not going to move forward until I'm absolutely comfortable that we're not going to leave anyone else behind on the show," he said.
Copping previously said the move would save the government $9 million, and was intended as a measure to "make sure we can cover the cost for the greatest number of people."
article content
The reversal comes after some Alberta residents with type 1 diabetes raised alarms that they could be left with large bills each month to maintain their insulin pump.
A woman who helped create a Facebook group for concerned users said that most workplace health benefits generally don't cover insulin pumps because the government program was available.
Diabetes Canada also sent Copping a letter earlier this week, saying they are "extremely concerned about the negative impact this decision will have" and the additional costs that Albertans will be "forced" to bear.
The national advocacy organization requested a meeting with Copping to discuss what they called an "urgent" issue.
"We have heard from Albertans that they will not be able to pay the premium and co-payment imposed by the new policy. This will leave them with no choice but to resume multiple daily insulin injections and effectively compromise their ability to manage their diabetes," wrote Diabetes Canada Senior Vice President Russell Williams.
article content
Copping said he spoke with representatives from Diabetes Canada on Thursday.
"I apologize to them – there was a lack of understanding in terms of the program. We did some queries, but it wasn't very clear," he said.
The minister added that he invited the organization to be part of a new consultation that the government will hold.
In a statement Thursday, Diabetes Canada director of government relations in Alberta, Joan King, said the group is pleased with the province's response to its concerns.
"Diabetes Canada commends the many Alberta residents living with type 1 diabetes who have come forward and expressed their concerns about the impact this would have on their personal health," she said.
Alberta NDP health critic David Shepherd said he is happy to see Copping "come to his senses".
"It's a shame they stumbled upon this and tried to put into practice a plan that could have been so damaging to thousands of Alberta residents. But I'm happy to see they're taking a step back."
Shepherd said he will look for details "in advance" for any future changes to the IPTP, as well as more information on how consultations will take place.
— with files by Ashley Joannou
Twitter: @meksmith