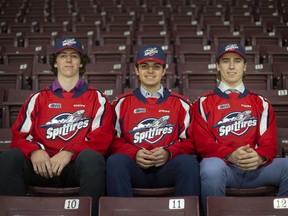 article content
Each draft brings hope for a team's future.
article content
Following the conclusion of the 15-round Ontario Hockey League Draft on Saturday, Windsor Spitfires general manager Bill Bowler believes the club has selected several prospects that could end up in the lineup in the future. Some scouting services saw Windsor pick four prospects considered to be in the top 60 overall among the team's top five selections, along with a highly praised goalkeeper.
"From the players we've welcomed in the first round and the ones we've followed, we think we have players that will help us win games," Bowler said Saturday. "We think there are players that are going to challenge the OHL and we will need some from this draft to get in and play next year."
Below are Windsor's 15 selections in this year's 15-round draft, along with vital statistics that include games played, goals, assists, points and penalty minutes, and a Bowler commentary on each prospect.
article content
1st round (22nd overall) – Anthony Cristoforo, Toronto Jr. Canadiens, right defender, 1.60m, 78kg. 56-15-63-78-NA
"A versatile, two-way defender who exudes leadership and can play in all situations," said Bowler. "He's just a guy who is a great teammate and a great player."
2nd round (34th overall) – Liam Greentree, Markham Majors, right winger, 180m, 88kg. 23-13-12-25-10
"He's got a good shot, he can score goals, he's got a big body and he goes into the dirty areas and can generate offense," Bowler said.
Round 3 (62nd overall) – AJ Spellacy, Cleveland Barons 15's, center, 6 ft-3, 190 lbs. 15-6-5-11-20
"A good two-way player," Bowler said. "Elite skater with a versatile game that can be a physical, defensive and offensive factor."
article content
4th round (65th overall) – Cole Davis, York-Simcoe Express, left wing, 5ft-9, 151lbs. 27-14-13-27-30
"Worker and can play in any situation and anywhere in the lineup," Bowler said of Davis, who slipped with a shoulder injury. "He's a boy we know and like."
6th round (107th overall) – Carter Froggett, Elgin-Middlesex Chiefs, goalie, 6ft-2, 186lbs. 13 games, 1.77 GAA and three shutouts.
"An athletic goalie with a tremendous advantage," Bowler said. "I like his potential."
6th round (122nd overall) – Jack Dean, Markham Majors, left wing, 160m, 191lbs. 23-13-11-24-4.
"He's a good player and had an excellent OHL Combine," Bowler said. "Just a good guy, two-way."
7th round (142nd overall) – Trevor O'Dell, Toronto Nationals, left defender, 180m, 68.5kg. 25-1-3-4-NA
article content
"A responsible advocate," Bowler said. "He is big, strong and a stable defender with a good brain."
8th round (162nd overall) – Jacob English, North Central Predators, left defender, 6 ft-1, 156 lbs. 21-2-3-5-24.
"Makes a good first pass and a tough guy to play against," Bowler said.
Round 9 (182nd overall) – Joseph Delaurentis, Westchester Express 15's, center, 6-0, 160 pounds. 68-46-43-89-57
"He's a flier, but he's got cutting edge ability," Bowler said of the American perspective. "He makes plays, scores goals and is a skilled striker who can score in our league."
Round 10 (202nd overall) – Carson Woodall, Toronto Marlboros, left quarterback, 1.60m, 160lbs. 46-4-27-31-6.
"He has an excellent hockey IQ," Bowler said of the Belle River native. "A very good player who understands the game."
article content
Round 11 (222nd overall) – Paolo Frasca, Toronto Jr. Canadiens, goalie, 5ft-9, 204lbs. No statistics available.
"Excellent goalie on the best team, in my opinion," Bowler said. "A competitive young man who finds a way to stop the records."
Round 12 (242nd overall) – Caeleb Bowler, Huron-Perth Lakers, right winger, 5-foot-10, 184 lbs. 34-15-13-28-12
"A straight-line player who finishes checks and puts in good numbers for a good Huron-Perth team," Bowler said of his father's brother's son's son.
Round 13 (262nd overall) – Evan Sofikitis, Detroit Little Caesar's 15's, right defender, 160m, 160lbs. 12-3-2-5-4.
"Little Caesar's team leader and a very good player," Bowler said. "His father played college hockey. He's a competitive kid who can find a way into our league."
Round 14 (282nd overall) – Gage Evans, Soo Jr. Greyhounds, left defender, 1.80 m, 77.8 kg. 24-1-7-8-24.
"Great left wing defender with a long reach," Bowler said. "He has an edge and a lot of potential."
Round 15 (286th overall) – Nathan Gaymes, Don Mills Flyers, right wing, 1.60 m, 76.5 kg. 58-21-29-50-NA
"Solid hockey player," Bowler said. "It plays in all situations and has untapped potential."
twitter.com/winstarparker