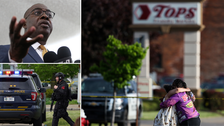 Ten people were killed and three others were injured in what authorities described as a "racially motivated" shooting at a Buffalo, New York, supermarket on Saturday.
Police arrested Payton Gendron, an 18-year-old white male, after he — armed with an assault rifle and wearing a tactical vest — opened fire in and out of Tops Friendly Market. The market is in a predominantly black neighborhood about 3 miles north of downtown Buffalo.
At a news conference on Saturday, Erie County Sheriff John Garcia called the shooting a hate crime.
"That was pure evil," Garcia said. "It was a racially motivated hate crime of someone from outside our community entering our community and trying to inflict this harm on us."
Eleven of the 13 people shot are black and two are white. At a Saturday night press conference, New York Governor Kathy Hochul (D) called the gunman "a white supremacist who has engaged in an act of terrorism and will be prosecuted as such."
Gendron traveled from Conklin, NY, about a three-and-a-half hour drive from Buffalo.
"This is the worst nightmare any community can face, and we are hurting and boiling right now," Buffalo Mayor Byron Brown told a news conference. "The depth of pain that the families are feeling and that we are all feeling right now cannot even be explained."
Police also confirmed that the suspect live-streamed the shooting on Twitch. In a statement, a Twitch spokesperson confirmed that there was a live stream of the shooting and said the company was working to monitor possible rebroadcasts of the content.
The victims' identities have not been released, but Buffalo Police Commissioner Joseph Gramaglia said Saturday that one of the victims was a "beloved" retired Buffalo police officer who worked as security for the store. Gramaglia said the security guard was killed when he exchanged fire with the suspect, hitting the gunman once in his armor.