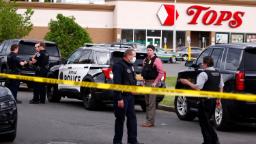 Ten people were killed in a racially motivated mass shooting at a supermarket in Buffalo on Saturday. The suspect, Payton S. Gendron, an 18-year-old white male, was charged with first-degree murder, prosecutors said. He pleaded not guilty in court Saturday night, Buffalo City Court Chief Justice Craig Hannah told CNN.
Here's what we know about how the mass shooting unfolded.
At around 2:30 pm, authorities allege that the suspect – who hails from the town of Conklin, a three-and-a-half-hour drive from Buffalo, western New York – drove to Tops Friendly Markets near the Masten Park and Kingsley areas, which are predominantly black neighborhoods.
Using tactical equipment and armed with "an assault weapon," the suspect allegedly shot and killed three people in the parking lot and wounded a fourth, according to a statement from Erie County District Attorney John J. Flynn.
The suspect then entered the store and exchanged fire with an armed security guard, who was a retired member of the Buffalo Police Department, the statement said.
As the suspect was wearing heavy tactical equipment, however, the guard's bullets had no effect, Gramaglia said Saturday.
"He was heavily armed," the police commissioner said. "He had tactical gear, a tactical helmet, a camera that would live stream what he was doing."
Inside the store, nine people were shot before the suspect was detained by police, with the guard and six others dying from their injuries, according to the prosecutor's statement.
In a statement sent to CNN, the live streaming service Twitch confirmed that the shooting was broadcast and said the user "has been indefinitely suspended from our service and we are taking all appropriate steps, including monitoring any accounts that relay such content. ".
CNN obtained a portion of the live stream that showed the suspect arriving at the supermarket in his vehicle and is not broadcasting the video.